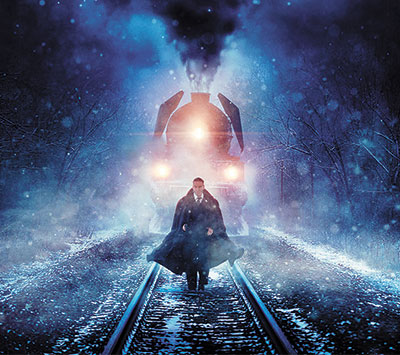 《东方快车谋杀案》
This film helmed by director-star Kenneth Branagh is adapted from Agatha Christie's "Murder on the Orient Express," one of the author's greatest mystery novels.
As the remainder* of the tale will basically be confined* to narrow railway cars, Branagh packs all the hustle and bustle* he can into the first 20 minutes, which sweep through scenic parts of old Istanbul on its way to getting the characters aboard the Simplon-Orient Express back to Europe in the evening.
The passengers are affluent* and dressed accordingly, but that doesn't make them classy. Rather, they are a largely louche* and suspicious* bunch, endowed by their creator to harbor secret motives* and possibly sinister* plans. They are also outfitted with labels as well as names: Penelope Cruz is "the Missionary*," Willem Dafoe plays "the Professor," who voices pro-Nazi sympathies, Michelle Pfeiffer is "the Widow," Daisy Ridley becomes "the Governess," Judi Dench is the imperious Princess Dragomiroff, and Olivia Colman is "the Maid" for her.
But dominating the early going is "the Gangster*," a swaggering* tough guy with an accent to match played by Johnny Depp. Josh Gad plays his assistant. The Gangster's motives, and his interactions with Hercule Poirot (Branagh himself plays the famous detective), become more complex than initially seems apparent*, but what the fellow passengers all seem to share is some sort of acquaintance* with a prominent American family whose child was kidnapped and finally found dead, a plot point lifted by Christie from the abduction of Charles and Anne Lindbergh's baby in 1932.
Christie's plot officially becomes a murder mystery when one of the main characters is killed in his compartment* overnight. Most of the remainder consists of a now aroused Poirot interviewing the key figures on board the train and applying his extraordinary deductive skills to figure out who among the passengers did the deed.
Like "Dunkirk" earlier in the year, this one was shot on 65mm film. This format is a connoisseur's* delight and always adds extra pleasure in the form of greater visual detail. (SD-Agencies)