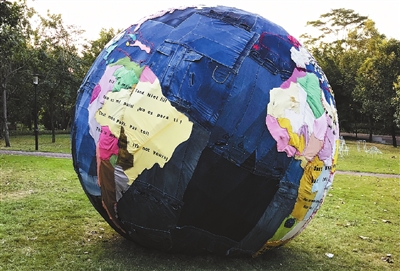 Cao Zhen
caozhen0806@126.com
SHARING economy has brought about a collaborative lifestyle for most of us, and now in Shenzhen, a group of artists are using parks, the most common publicly-shared object, as their subject for artworks, re-thinking the concept of "sharing" and "communion."
Fourteen Chinese artists and South Korean artist Kim Tae-jun are exhibiting 15 installations inside Shenzhen Central Park at the fourth Shenzhen Public Sculpture Exhibition with the theme "Fields of Communion." Some works examine the social and moral rules of public space, such as Jiao Xingtao's "Circle-backslash." The artist set up an oversized model of the iconic stainless steel circle-backslash "prohibited" sign and placed a few plastic circular fans on the grass. The fans are printed with weird symbols of people kissing, "shhh" gestures or people wearing masks, each of which is also overlaid with a circle-backslash sign.
The artist, who is a sculpture professor at the Sichuan Fine Arts Institute, said he made this installation to question the boundaries of rules in today's sharing world. He asks: "In a public space, what is consensus and what is taboo? And if some human acts are viewed by the majority as negative behaviors, how do we construct a more positive value system?"
Weng Fen's "Sewed Globalization" is a giant globe made of an iron ball covered with a collage of old cloth. Blue jeans form the oceans while red, yellow and gray cloths make up the continents. The artist tries to convey that a world of conflicts needs to be sewed and mended, and humans should be connected and travel freely.
Ma Yongfeng's "The Raft of Community" looks simple and static. He created a raft made up of 40 used delivery paper boxes to criticize the heavy waste of paper amid the booming delivery business. The raft is now floating on Futian River inside the park. Ma explained that he borrowed the name from French Romantic painter Théodore Géricault's classic oil painting "The Raft of the Medusa," which depicted starvation, dehydration and despair from the aftermath of the wreck of a French naval frigate in 1816.
In its fourth year, the Shenzhen public sculpture exhibition is an exploration of the relationship between public art and urban spaces and how public art serves urban dwellers. Every year, most of the exhibits go beyond people's understanding of conventional sculptures, with their interesting choice of materials alluding to their intentions. This year, some artists also encourage the public to interact with their works, such as Shen Shaomin's "Light of Sharing." The artist invites visitors to ride on a bicycle which will help to light up a series of lights hung on a tree beside a river.
During the exhibition period, five sham couples will chat at five locations in the park for an hour every Saturday afternoon. The couples were volunteers recruited by Qin Ga, who is from Minzu University of China. He said the volunteers didn't know each other and he intended to express that in today's world, anything could be untrue and everything could be schemed.
"Public art is based on a city and a community's history, responding to the needs of an opening space and requiring site specificity, community involvement and collaboration. Rather, the relationship between the content and audience, what the art is saying and to whom, is just as important if not more important than its physical location," according to the exhibition profile written by curators Li Yufan and Man Yu.
Dates: Until Jan. 11, 2018
Venue: E Zone, Shenzhen Central Park, Futian District (福田区深圳中心公园E区)
Metro: Line 3, Huaxin Station (华新站), Exit D