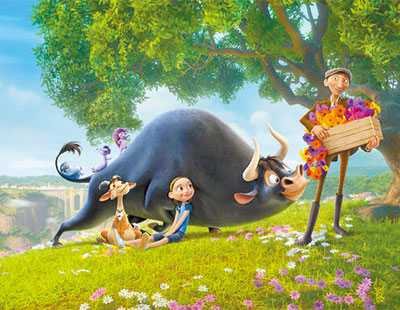 《公牛历险记》
"Ferdinand" is a CG-animated adaptation of the classic 1936 Munro Leaf and Robert Lawson book about a flower-loving bull who'd rather sniff* than fight.
Helmed* by Carlos Saldanha, the film is the seventh Blue Sky feature he has either directed or co-directed, with John Cena agreeably voicing the role of the "peace-a-bull" protagonist*.
The story begins in Casa del Toros, a bull training camp in rural Spain from which young Ferdinand runs off upon learning his dad never returned from a trip to that Madrid arena*. He finds refuge* on a farm belonging to Juan (singer Juanes), whose daughter Nina (Lily Day) makes a pet out of the docile* creature until he grows to a huge threatening size and is later taken by the authorities and delivered* back to Casa del Toros, where a bull becomes either a fighter or meat.
Not fond of either of the choices, and with the famous bullfighter El Primero (Miguel Angel Silvestre) picking him for his farewell appearance, Ferdinand plans an escape with the assistance of Lupe, a calming goat (Kate McKinnon), and three hedgehogs* named Uno, Dos and Cuartro (Gina Rodriguez, Daveed Diggs and Gabriel Iglesias).
There are moments of comic delight to be found here, like a literal "bull in a china shop" sequence, as well as the foppish* antics* of a trio of Lipizzaner horses (voiced by Boris Kodjoe, Flula Borg and Sally Phillips). But the plotting takes a while to find its footing*, and even when it does, the stop-start momentum never quite rises to the occasion.
The visual effects, including those pastoral vistas with rolling bright green hills and sunny blue skies, are certainly pleasing to the eye, and the characters, particularly the formidable* Ferdinand, live in those vivid spaces with a lithe* grace.
Of the three original songs, two are performed by Nick Jonas, and the third by Juanes.