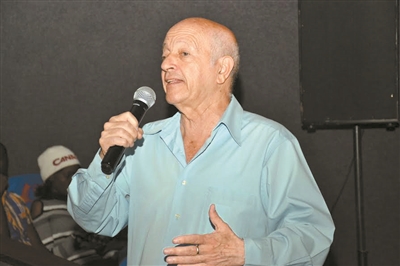 ISRAELI award-winning director Dan Wolman introduced "An Israeli Love Story" and five other movies to Chinese audiencein Beijing serving as a lense into the local customs of the historical West Asian land.
The event kicked off with "An Israeli Love Story," staring Adi Bielski and Aviv Alush, on Monday. The film is based on Israeli theater and movie actress Pnina Gary's true life story during the period between 1942 and 1948.
"It is a very simple but delicate love story of a woman," said Wolman. "There's something I really want to capture — the innocence of that period of time, that people were idealistic and willing to sacrifice themselves for their ideal."
The story took place in 1942 when young Margalit first met her love, Ami. Under the turbulent situation, these two were forced apart until they met again in a kibbutz, a type of farm in Israel where many people live and work together. They fell in love and decided to marry on Purim, a Jewish holiday. As they were preparing the wedding, Ami found himself in peril.
This is not Wolman's first time in Beijing. In 2011, he took home the trophy of best foreign film chosen by the audience at Golden Rooster and Hundred Flowers Film Festival in China. It was also then that Wolman began to get involved in Chinese film industry.
Five more of Wolman's films are also playing: "My Michael," "Foreign Sister," "Ben's Biography," "Tied Hands" and "Valley of Strength." The panorama will run for two months in different cinemas in Beijing. (SD-Agencies)