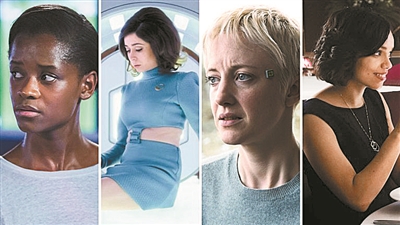 "BLACK Mirror" has often been credited with predicting the future and when the Netflix anthology returns Friday, the fourth season will be no exception. But this time, it's not some seemingly far-off technological advancement or even a politicized prediction that stands out the most. It seems "Black Mirror" knew its viewers could use a dose of female heroes before closing out 2017.
When the fourth season of Charlie Brooker's dystopian anthology launches Dec. 29, viewers will have to watch all six episodes before connecting the dots that each one stars a female protagonist. "Hero" is admittedly an odd word to use when describing a "Black Mirror" character, since the series traditionally welcomes viewers into some version of a bleak, nihilistic world of techno-paranoia and ultimately spits them out with a devastating shock-twist. After all, not until last season's Emmy-winning star-crossed love story "San Junipero" did "Black Mirror" deliver its one-and-only happy ending.
The Jodie Foster-directed "Arkangel" follows Brenna Harding through young adulthood after her mother (Rosemarie Dewitt) tested a parental tracking device on her when she was young; "USS Callister" flings Cristin Milioti into space, where her fleet is run by a tyrant; "Crocodile," led by Andrea Riseborough, explores how memory when advanced by technology can help to solve crimes; "Hang the DJ" is a commentary on online dating with one of the singles played by Georgina Campbell; "Metalhead" pits Maxine Peake against machine; and "Black Museum," starring Letitia Wright, contains a reference to perhaps every single "Black Mirror" episode within its museum of horrors ("We just opened up an Easter egg hose and fired away," creator and writer Brooker said of the story, sure to be a thrill for dedicated viewers).
But, once again, having a predominantly female slate of stars was not intentional. Especially since Brooker wrote the episodes long before Harvey Weinstein's sexual harassment in October.
(SD-Agencies)