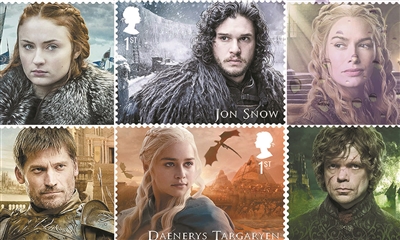 CHARACTERS from the smash-hit award-winning fantasy television program, "Game of Thrones," will be featured on a new series of stamps, Britain's Royal Mail announced Wednesday.
The collection of 15 stamps will feature British contributions to the U.S. show which is based on the books by George R. R. Martin.
Most of the filming for the series takes place in Northern Ireland.
Daenerys Targaryen, Jon Snow and Arya Stark are among the 10 characters featured in the set which goes on sale at post offices Jan. 23. The three are played by British actors Emilia Clarke, Kit Harington and Maisie Williams.
The stamps also feature fellow British actors Lena Headey (who stars as Cersei Lannister), Sophie Turner (Sansa Stark) and Charles Dance (Tywin Lannister).
In addition, a sheet of stamps also feature: the Night King and White Walkers; Giants; Direwolves and Dragons; as well as a stamp of the contested Iron Throne.
The "Game of Thrones" production involves a very significant British contribution. Principal filming of the series is at Titanic Studios in Belfast, at the Linen Hill Film Studio in Banbridge and on location elsewhere in Northern Ireland, with additional filming in Scotland and European locations including Malta, Croatia, Iceland and Spain.
A spokeswoman for the post office said: "In addition to the stamps there is an extensive range of products, exclusive souvenirs, limited edition and gifts, not available on the high-street. Products include framed stamps, prints and the Prestige Stamp Book providing behind-the-scenes access to the 'Game of Thrones' world — from costume designs to filming locations and early set designs."(Xinhua)