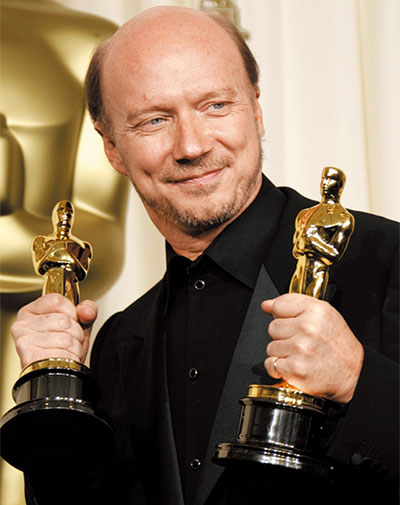 A CIVIL lawsuit charging Oscar-winning filmmaker Paul Haggis with raping a publicist has prompted three more women to come forward with their own sexual misconduct accusations, including another publicist who says he forced her to perform oral sex, then raped her.
One of the other women speaking out told The Associated Press that Haggis tried to sexually assault her. "I need to be inside you," she recalled him saying, before she managed to run away.
Another of the new accusers said Haggis held down her arms, forcibly kissed her on a street corner, then followed her into a taxi. She said she later escaped his clutches.
When asked about the new accusations, Christine Lepera, attorney for the 64-year-old screenwriter of "Million Dollar Baby" and "Crash," said, "He didn't rape anybody."
Haggis has denied the original rape allegation in an extortion lawsuit filed against that woman, and said she and her lawyer had demanded a US$9 million payment to avoid legal action.
The plaintiff in the lawsuit, filed Dec. 15 in Manhattan, is identified in court papers as Haleigh Breest. The other three women subsequently came forward to Breest's New York attorneys.
On Friday, Breest amended her complaint against Haggis to include the claims of the three Jane Does.
In separate interviews with the AP, the three new accusers provided detailed accounts of encounters they say occurred between 1996 and 2015. The women were early in their careers in the entertainment business when, they say, the Hollywood heavyweight lured them to private or semi-private places under the guise of discussing productions or a subject of a professional nature.
They all said Haggis first tried to kiss them. In two of the cases, they said, when they fought back, Haggis escalated his aggression.
The new rape accuser said she was a 28-year-old publicist working on a television show being produced by Haggis in 1996 when he called to ask to review photos from the show that night in her office.
When Haggis arrived, she said, everyone else had left the office for the night and he insisted they speak in a back office.
She said Haggis began kissing her as soon as they walked into the room.
"I just pulled away. He was just glaring at me and came at me again. I was really resisting. He said to me, 'Do you really want to continue working?'" the woman said. "And then he really forced himself on me. I was just numb. I didn't know what to do."
She said he made her perform oral sex, then pushed her to the floor and raped her.
The woman said she felt inspired to come forward after seeing Haggis' photo and a news story about Breest's lawsuit, amid the growing #MeToo movement of women speaking out about sexual misconduct by powerful men in Hollywood, politics, the media and other industries.
Breest accuses Haggis of raping her after he lured her back to his apartment in Manhattan following a film premiere in 2013.
(SD-Agencies)