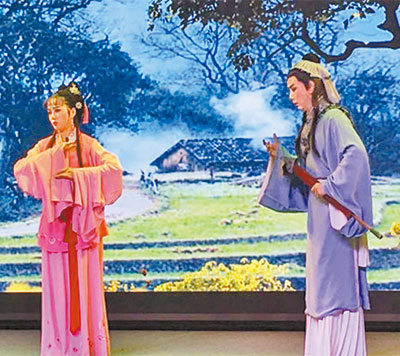 AMID the beautiful tunes and simple lyrics of Huangmei Opera, The Futian Culture Hall•Huangmei Opera Theme Hall, a joint operation by Futian Public Culture and Sports Development Center and Shenzhen Chenlong Huangmei Opera Culture Development Company, was unveiled Dec. 27 at Funian Plaza.
At the unveiling ceremony, a cooperation agreement was signed by the two sides, which states at least ten free public-benefit Huangmei Opera events shall be held on a regular basis at the new venue each year.
Covering a total area of 600 square meters, the hall is fully equipped with stages, practicing rooms, and salon areas, satisfying the performance needs of opera fans.
"In the past, we cooperated with the government for performances. This is the first time that we've joined hands with the government to build up a venue for opera," said Xiong Chenlong, chairman of Chenlong Huangmei Opera Culture Development Company.
Chen added that he wishes the venue to be taken full advantage of so that Huangmei Opera can become more and more popular in Shenzhen under the guidance of the government.
Huangmei opera is an important traditional Chinese genre and one of China's five major operas that originated in Huangmei County, Hubei Province, later gaining great popularity in Anqing, Anhui Province.(Chen Xiaochun)