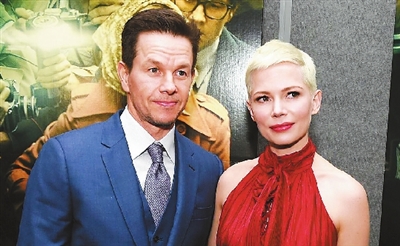 BOWING to an outcry over the wage disparity on the reshoots of "All the Money in the World," Mark Wahlberg and his agency William Morris Endeavor have agreed to donate US$2 million to the Time's Up fund to combat harassment and pay inequities in Hollywood.
"Over the last few days my reshoot fee for 'All the Money in the World' has become an important topic of conversation," Wahlberg said in a statement. "I 100 percent support the fight for fair pay and I'm donating the US$1.5 million to the Time's Up Legal Defense Fund in Michelle Williams' name."
WME, the talent agency that represents both Wahlberg and Williams, also announced it would be making a US$500,000 donation to the fund, again in Williams' name. The organization had already donated US$1 million to the fund earlier this month.
Williams issued a statement in response to the donation Saturday.
"If we truly envision an equal world, it takes equal effort and sacrifice," Williams' statement read in part. "Today is one of the most indelible days of my life because of Mark Wahlberg, WME and a community of women and men who share in this accomplishment. Anthony Rapp, for all the shoulders you stood on, now we stand on yours."
Rapp, who appears on CBS' "Star Trek: Discovery," alleged in a Buzzfeed story published in late October that Spacey made a sexual advance toward him at a party in 1986. Rapp was 14 years old at the time.
Spacey issued a statement claiming he did not recall the alleged incident with Rapp, but he apologized for what he said would have been "deeply inappropriate drunken behavior."
As a result of Rapp's allegations and others, director Ridley Scott decided to reshoot scenes from "All the Money in the World" that included Spacey.
A USA Today report said while Wahlberg received an additional US$1.5 million beyond his original salary, his costar Williams was given nothing but a per diem of about US$1,000. The dramatic difference in how the two stars were compensated triggered an outcry.
After news of the pay difference between Williams and Wahlberg became public, many cited it as a prime example of the gender pay gap prevalent in Hollywood and other industries.
The Time's Up fund was established to subsidize legal support to people who have dealt with sexual harassment in the workplace. It is administered by the National Women's Law Center.
(SD-Agencies)