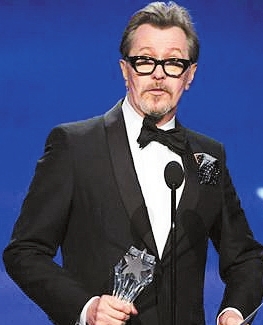 GARY OLDMAN'S march towards the Oscars has continued with another best actor prize for playing Winston Churchill.
The Briton's Critics' Choice award for "Darkest Hour" follows the Golden Globe he won last weekend and the Bafta nomination he received Tuesday.
Globe winner Guillermo del Toro was on hand to pick up another best director prize for "The Shape of Water," which won best picture at the Santa Monica event.
But James Franco was not there to pick up the best actor in a comedy award.
A number of women have accused the "Disaster Artist" star of sexual misconduct or inappropriate behavior since his appearance at the Golden Globes on Sunday.
Franco has said earlier claims made on Twitter this week were "not accurate." His attorney has also told the LA Times that the actor disputes the allegations.
Frances McDormand was also not present to collect her best actress prize for "Three Billboards Outside Ebbing, Missouri," which also received an award for best acting ensemble.
The Critics' Choice awards also emulated the Golden Globes by giving television awards to "Big Little Lies," "The Handmaid's Tale" and Ewan McGregor for "Fargo."
After stars wore black at the Golden Globes, most opted for a splash of color instead at the ceremony — perhaps most notably Nicole Kidman, who won a best actress award for "Big Little Lies" and chose a bright pink ruffled dress.
The treatment of women in Hollywood dominated the agenda at Thursday's event, where "Wonder Woman" star Gal Gadot received a special award. "In the past weeks and months we've been witnessing a movement in our industry and society and I want to share this award with all women and men who stand for what's right," said the Israeli actress.
"My promise and commitment to all of you is that I will never be silenced and we will continue to band together to make strides uniting for equality."
"Wonder Woman" was named best action movie at the ceremony, something Gadot celebrated on her personal Twitter feed.
Del Toro's success in the best director category came at the expense of "Lady Bird" writer-director Greta Gerwig, who had also been up for the award. (SD-Agencies)