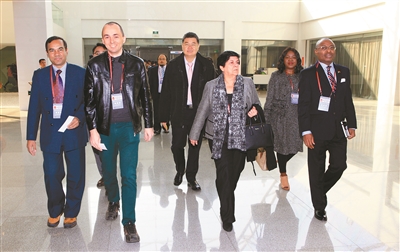 Zhang Yang
nicolezyyy@163.com
SHENZHEN has set its GDP growth target at more than 8 percent for 2018, Mayor Chen Rugui said while delivering a government work report at the opening meeting of the annual session of the city's legislature yesterday.
The projected target is in line with both economic principles and realities, the report said, adding that it will help stabilize market expectations and facilitate the city's structural adjustments.
Addressing 494 deputies, Chen said the city will continue to prioritize quality-oriented development in 2018 and make sure residents' income growth increases in pace with GDP.
According to the work report, this year's target for urban job creation is 80,000. The city will initiate the construction of 80,000 government-subsidized apartments this year, and aims to add another 2,000 hospital beds, 1,000 beds in nursing homes, 20,000 kindergarten seats and 50,000 seats in public primary and middle schools. The minimum subsistence allowance will be raised to 1,000 yuan (US$147) per month and the urban unemployment rate will be controlled within 3 percent. Inflation will be limited to less than 3 percent. The city will continue to improve air quality by dropping PM2.5 content to 26 micrograms per cubic meter.
Shenzhen will work closely with Hong Kong to enhance cross-border cooperation in the Lok Ma Chau Loop area this year. The city will also cooperate with Hong Kong and Macao in trade, finance, education, technology and other fields under the framework of the Guangdong-Hong Kong-Macao Greater Bay Area strategy.
Chen summarized that 2017 was a fruitful year for Shenzhen. The city's GDP reached 2.2 trillion yuan last year, with a year-on-year growth of 8.8 percent.
Defined as the "Year of Enhancing City Quality" by the government at the 2017 session of the local legislature, Shenzhen has shown quality development in all aspects, such as Shenzhen-made products and residents' livelihood, which was regarded as a top priority by the government.
Through the year's efforts, Chen said Shenzhen had achieved notable results in enhancing residents' livelihood, improving the ecological environment and strengthening the city's soft power.
For example, Shenzhen invested 319.8 billion yuan in promoting public welfare last year, with expenditures in education and health care up by 22.8 percent and 21.3 percent, respectively. A total of 126 new kindergartens were built, and 34 primary and middle schools were constructed or expanded.
The city rolled out 486 water quality improvement projects last year, building 2,009 kilometers of sewage pipe networks and removing 2,780 sewage drain outlets. Over 20,000 new-energy vehicles hit the road in Shenzhen last year, and all public buses were replaced by electric buses by the end of the year.
Work plan in 10 aspects for the coming year was specifically outlined in the report, focusing on supply-side structural reform, further support of innovation development, and amelioration of the business environment and people's livelihood as well as the city's urban environment and soft power.
The session will wrap up Sunday.
(Special report on P2)