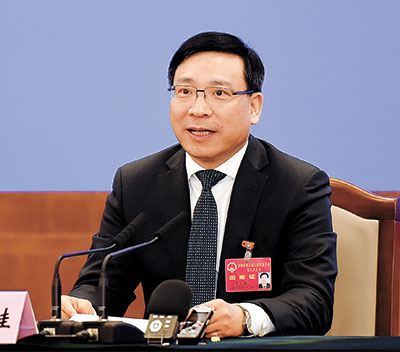 Zhang Qian
zhqcindy@163.com
SHENZHEN Mayor Chen Rugui held a press conference after the annual session of the city's legislature wrapped up Sunday, answering questions regarding Shenzhen's blueprint for this year.
Better Business Environment
SZ Special Zone Daily: The year of 2018 marks the 40th anniversary of the reform and opening up. A good market-oriented environment can be said to be an important safeguard for maintaining Shenzhen's vitality. What innovative initiatives will Shenzhen take to create a good business environment?
Mayor: The business environment of a city directly affects the vitality of the city's economic development and affects the vitality of innovation and entrepreneurship. Shenzhen has always attached great importance to creating a business environment in which many experiences of reform and innovation have been introduced. Also, thanks to the good business environment, Shenzhen has gathered many high-end talents and enterprises here.
However, under the new period, some of the past advantages are no longer so obvious and we are facing many challenges as well as competition. In the face of the difficult task of creating new advantages at this new starting point, we need to further optimize our business environment.
In order to fulfill the spirit of President Xi Jinping's important instructions at the 16th meeting of the Central financial leading group, the Shenzhen Municipal Government has organized and carried out extensive research, visited a large number of enterprises, and also visited advanced cities at home and abroad, including Hong Kong and Singapore.
On the basis of this, we have put forward a series of measures to further optimize the business environment. In the near term, we will launch 20 policy measures to spearhead the reform of the business environment.
Some of the key measures include boosting Shenzhen-Hong Kong financial cooperation, optimizing the allocation of industrial space resources, implementing more preferential policies for talents, building a more intelligent government administration system, formulating policies to promote green production and consumption, taking measures to protect intellectual property rights and establishing a unified credibility evaluation platform.
The city will strengthen the collection, sharing and application of credit information, take the lead in the application of credit information in the areas of housing applications, public resources trading, industrial funds and government procurement, and promote intelligent credit supervision.
This will lower the cost of institutional transactions, encourage creditworthiness, and ensure efforts to build a top-notch credit environment that will provide a good social credit ecology for innovative entrepreneurship and economic development.
Innovation
Nanfang Daily: In the past year, Shenzhen's development achievements have been widely praised by the province, the country and even the whole world. On the other hand, this year's government work report pointed out some problems and challenges Shenzhen is facing, addressing the issue that Shenzhen's original innovative ability is not yet strong enough. What do you think about the praise for Shenzhen? What measures will Shenzhen take to maintain an innovative edge?
Mayor: Since the reform and opening up, Shenzhen has created world-renowned miracles in many ways, and it has been witnessed by all that Shenzhen has led the economy with its reform, opening up and innovation. At the same time, as the economy develops, the livelihood of residents and the ecological environment have greatly improved, while the city's soft power and influence have also gotten a new boost.
However, we are also aware that there is a wide gap between the city's current development and the requirements to become a city of high-quality development. For instance, the city's urban environment is still behind that of some advanced cities in other parts of the world, and there is a wide gap between the basic public services and the expectations of the general public.
Thus, we must stick to goal-oriented and problem-oriented strategies, and take the initiative to find the gaps and our weak spots. We should regard those first-class cities in the world as our benchmark and dare to explore and innovate.
Some of the measures to maintain innovative development will include attracting more high-end talents, continuing to boost the city's innovation ability by continuing the "10 Action Plan," which promotes scientific and technological innovation, fostering innovative industries — such as artificial intelligence, graphene, third-generation semiconductors, health science and technology and new materials.
(Continued on P2)
Shenzhen Mayor Chen Rugui speaks at a press conference after the annual session of the city legislature ended Sunday. Sun Yuchen
talents
People's Daily: What benefits has Shenzhen gained by introducing talents? What are some preferential policies that will be introduced in the future?
Mayor: Shenzhen has a very young population, with an average age of about 33 years old. Reforming, open and innovative are the attributes of the city. After 38 years of development, the Shenzhen Special Economic Zone has created a miracle in the history of the world's industrial modernization. Talents are the most crucial thing for Shenzhen in making such an achievement.
I've been working in Shenzhen for more than half a year now. I always see happy faces with hope for the future, which makes me feel the city's vitality and charm. It is the concentration of many high-caliber talents in Shenzhen that has created a number of high-end enterprises.
The proportion of the secondary-tertiary industries in Shenzhen was 41.5:58.4 last year. Advanced manufacturing accounted for about 70 percent of the total industrial share and the added value of new industries accounted for more than 40 percent of GDP. Modern services accounted for over 70 percent of the service sector and 61 percent of science and technology. Behind the data is the support and efforts of high-end talents. This is what we have gained by having more talents.
The city government has always attached great importance to the work of talents, especially with the continuous improvement of talent policies in recent years, and the introduction of talents has achieved remarkable results.
The city now has introduced over 5 million talents, nearly a quarter of the management population, including nearly 30 full-time academicians, 270 talents recognized by the country's "Thousand Talent Program" and more than 500 experts with special allowances from the State Council. Last year, we introduced over 260,000 people from home and abroad, including 18,000 returned overseas students.
When I attended a panel discussion with the delegation of Yantian District last week during the MPC, several returned overseas doctoral degree holders told me that they felt Shenzhen was their home after traveling to many cities and countries. Many of them felt that Shenzhen's talent policies were good and the city was very livable. This is a good phenomenon, and we will seek advice from everyone to improve services for all kinds of talents. We will focus more on the introduction of world-class talents to make Shenzhen a first-class city with a leading urban and business environment.
Smart City
Shenzhen TV: Shenzhen is aiming to become a first-class Smart City. How can it achieve this goal and how will Shenzhen enterprises and residents benefit from being in a Smart City?
Mayor: The construction of the Smart City is a way to innovate government services, management and innovation supervision. For example, to improve transportation services, including aviation, ports, roads and metros, we will develop an integrated and comprehensive transportation service system based on intelligent technologies.
In the future, Shenzhen will continue to improve its manufacturing industry by vigorously developing intelligent manufacturing, and improving capacity and industrial added value. Big data will surely bring change to organizational patterns, innovation and marketing models. We hope to promote a new round of economic innovation through the construction of the Smart City.
Shenzhen's electronic information industry is very developed, which lays a solid foundation for building the Smart City and will thereby drive the growth of an array of relevant industries. Smart City involves a lot of aspects, and in the process of construction we also need to highlight the security management of big data, protection of personal privacy, and ensure data security and cyberspace security.
At present, there is a certain basis for Shenzhen to build a Smart City, but it's not enough. We will accelerate the development of a plan to build a Smart City system that incorporates infrastructure and a big data platform.
We are also looking at carrying out 10 major projects, such as a high-speed broadband network, a comprehensive perception system and urban big data, this year.
Enterprises'outbound relocation
Southern Metropolis Daily: Shenzhen has experienced an acceleration of the outbound immigration of enterprises in recent years, and land space has severely restricted Shenzhen's future possibilities. How can these problems be solved?
Mayor: I think it is normal for enterprises to relocate, as its a behavior of corporations under market law. Huawei, for example, has branch companies in more than 170 countries around the world.
Many Shenzhen enterprises are expanding to other cities, which in fact will have a positive effect on the optimization of the whole industrial structure of the Pearl River Delta region and the innovative development of the economy. But we also note that there are some factors that are causing some enterprises to move to other cities, such as the high land, housing and labor costs in Shenzhen.
The Shenzhen government is very concerned about the economic development of these entities and the problem of enterprises leaving the city. We are making every effort to create conditions that will keep high-end manufacturing industries in Shenzhen, such as promoting a series of technological renovation multiplexing plans to improve the capacity of enterprises, introducing special policies to guarantee industrial land and implementing preferential policies, including tax breaks and incentives. These efforts have yielded tangible results.
Firstly, the total production of the city's secondary industries rose to 41.5 percent of the city's total production value in 2017 from 38.6 percent in 2016, a rise of nearly 3 percentage points.
Secondly, we introduced a number of high-end quality enterprises last year. For example, ARM's China headquarters, and the Airbus China Innovation Center, among others. Take Airbus as an example, they have only two major centers globally, one in Silicon Valley and the one in Shenzhen. Last year we added 40 more listed enterprises, accounting for more than 40 percent of Guangdong Province, and ranking first in the country.
We have also implemented a series of commercial reforms, with the number of commercial entities in the city increasing by 400,000 to more than 3 million, up more than 15 percent.
Shenzhen now has nearly 1.8 million small- and medium-sized enterprises with a relatively good growth rate, which contribute 57 percent of the total economy, more than 50 percent of the tax rate and 70 percent of the employment contribution rate.
Of course, we are also aware that Shenzhen's land resources are always limited, which requires us to focus more on development strategies. On the one hand, we will adhere to quality interior development. We will also stick to high-end, high quality and new development by seizing opportunities for development in the Greater Bay Area, strengthening regional cooperation and playing Shenzhen's role as innovation leader.
Guangzhou-Shenzhen cooperation
Guangzhou Daily: What role will Shenzhen play at the Guangzhou-Shenzhen Science and Technology Innovation Corridor under the Guangdong-Hong Kong-Macao Greater Bay Area strategy?
Mayor: The Guangzhou-Shenzhen Science and Technology Innovation Corridor is an important innovation hub in China. Currently, Shenzhen is formulating plans to take the initiative to strengthen its connection with Guangzhou and Dongguan in terms of building the corridor.
Guangzhou is not only a major city in China, but also an international business center, a science and education center in South China and a comprehensive transport hub. Both Shenzhen and Guangzhou are innovative cities and are at the forefront of the reform and opening up, so we both have some advantages in science and technology innovation, new industries, foreign trade and finance.
Building the Guangzhou-Shenzhen Science and Technology Innovation Corridor will benefit both cities in terms of resources, mechanisms, industries and talents. For Shenzhen, we have to plan well with an open mindset and connect with Hong Kong, Guangzhou and Dongguan to promote interactive policy measures.
On the other hand, it is necessary to give full play to Shenzhen's innovative advantages in science and technology, talent exchanges and industrialization, in order to promote the rational allocation of regional innovation factors, create more significant science and technology projects, cultivate more future industries, promote the transformation and upgrade of the economy, promote greater development of our original innovative, scientific and technological leadership as well as industrialization, and to create a strong innovation engine for the entire Pearl River Delta region.
Shenzhen-Hong Kong Cooperation
Hong Kong Takungpao Wenweipao Media Group: What do you think about Hong Kong's unique advantages? How can we boost cooperation between Shenzhen and Hong Kong?
Mayor: Shenzhen's development has always relied on Hong Kong. In the past, we relied on Hong Kong's capital investment to run the factories, solve employment problems and develop trade, and later we developed advanced manufacturing, but today, our new economy is flourishing. These are all closely related to Hong Kong.
Now, Shenzhen starts off again at a new starting point, and there are many things to be done, one of which is to further enhance the city's internationalization, and especially to strengthen close cooperation with Hong Kong. Hong Kong has many advantages in areas such as shipping, finance, education, medicine, talent and management.
At present, there are two major areas for Shenzhen-Hong Kong cooperation, one in Qianhai and the other in the Lok Ma Chau River Loop area. The Qianhai Free Trade Zone has achieved significant results, while for the river loop area the two governments signed an MOU last year for promoting common development and building a Shenzhen-Hong Kong Science and Technology Innovation Special Zone, which will allow more Hong Kong talents, technology enterprises and medical and educational services to be well developed in this area.
Under the "One country, Two systems" approach and the Greater Bay Area framework we will take full advantage of the two major platforms and work to promote deeper and higher quality development. Some measures are to be enacted or continued, such as upgrading the cross-border checkpoint infrastructure, strengthening docking for logistics shipping, promoting the sharing of technological resources, focusing on the complementarity roles of industrial structures, highlighting the interactions of financial platforms and lastly cooperating in development of a livable environment in both cities.
In-depth cooperation in these aspects will help Hong Kong to become more integrated into the overall development of the country and promote long-term prosperity in Hong Kong. We can also enhance Shenzhen's internationalization by drawing on Hong Kong's advantages in finance, education and shipping. Under the strong leadership of the Central Committee and the State Council, Shenzhen and Hong Kong will work more closely together to achieve better development.