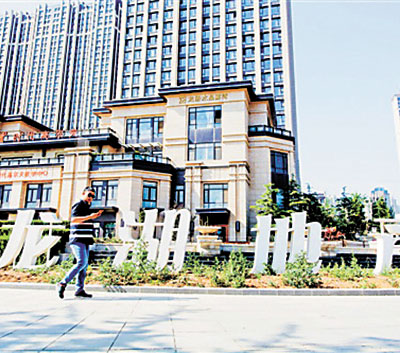 CHINESE property developers are likely to continue to borrow significantly from overseas markets as China's lending market is tight and the cost of borrowing is rising.
In the first two weeks of this month, a handful of property developers have announced they will raise funds through US dollar-denominated bond issuances. They include Longfor Group, which announced successful issuance of bonds for a total of US$800 million.
The interest rate on Longfor's US$300 million 5.25-year bonds was 3.9 percent, and the rate on US$500 million 10-year bonds was 4.5 percent.
According to data of Shanghai-based E-house China, a realty information provider, the financing cost in the domestic market could exceed 7 percent for smaller, unlisted developers.
For large listed developers, the borrowing cost was between 5 percent and 5.5 percent. Fund raising from trusts could see the cost go up to as high as 10 to 12 percent.
Lending to the real estate development sector, particularly the residential segment, was tightened in many cities in recent times to curb speculative buying.
According to data from E-house, combined fund-raising by 108 domestic developers monitored declined from 1.113 trillion yuan (US$174.9 billion) in 2016 to 1.086 trillion yuan in 2017.
Among all fundraising channels, bond issuance dropped the most from 452.7 billion yuan to 43.7 billion yuan, which was more than 90 percent.
Meanwhile, funds raised in overseas markets rose from 338 billion yuan in 2016 to 432 billion yuan in 2017.
In China, the interest rate may increase further this year as decision-makers are continuously making efforts toward opening-up and reforms, making China's financial market more liberalized and pricing more market-oriented.
Lending to real estate developers is likely to remain tight this year as China is still in the process of deleveraging. The country is also moving away from excessive reliance on the real estate industry for local economic growth, said analysts.
(SD-Agencies)