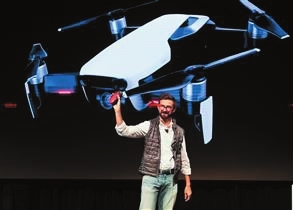 SHENZHEN-BASED drone-maker DJI is looking to develop more industrial applications even as it continues to consolidate its lead in the consumer drone market, a top executive of the company said Friday.
"In 2018, we are going to put more efforts and resources into the promotion of industrial applications," said Zhang Xiaonan, strategic director of DJI, during the release of its new Mavic Air drones in China.
To be more specific, DJI is looking to apply its drone technology into more areas and industries, as well as expand partnerships with customers and third-party developers. The goal is to ensure that DJI's technology and products bring more joy and value, said Zhang.
A series of unauthorized drone flights last year had led to tighter usage regulations and impacted product sales. Though DJI did feel the impact of slower sales, it still had the largest market share in the global consumer drone market, according to a report in Caixin magazine, citing unnamed DJI sources.
DJI reported 18 billion yuan (US$2.83 billion) revenue in 2017, up 80 percent from the figure in 2016, but the achievement was eclipsed by the 300 percent growth in 2014 and 100 percent in 2015.
China Air Transport Association has issued a report on China's civilian drone's development for the year between 2017 and 2018, noting that after three years of high speed growth, the nation's consumer drone sector is slowing its growth pace temporarily.
Another report from consulting firm iResearch indicated that China's drone market value will reach 75 billion yuan by 2025, and the market demand will mainly come from aerial photography, agriculture, plant protection, and security.
(SD-Agencies)