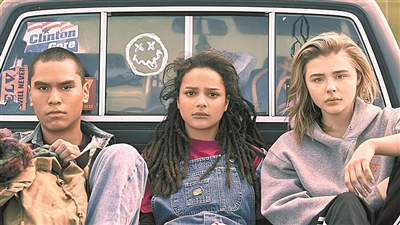 "THE Miseducation of Cameron Post" from Desiree Akhavan, starring Chloe Grace Moretz, which is set in a gay conversation therapy center that tries to turn several young lesbians straight, claimed the U.S. Dramatic Grand Jury Award at this year's Sundance Film Festival. The Documentary Grand Jury Award was presented to Derek Doneen's "Kailash," a portrait of Kailash Satyarthi, who has led a campaign to end child slavery. The awards ceremony was held Saturday night.
Audience Award winners included the dramatic feature "Burden," writer/director Andrew Heckler's film starring Garrett Hedlund. It's about a Klansman whose encounters with a single mom and an African-American reverend teach him tolerance. Also winning was the documentary "The Sentence," whose director Rudy Valdez recounts the case of his sister, who received a 15-year mandatory sentence for a crime in which she was only tangentially involved.
Jason Mantzoukas, who stars in festival feature "The Long Dumb Road," hosted the night's ceremony, which took place at Basin Recreation Field House. Opening the ceremony were "Hearts Beat Loud" co-stars Kiersey Clemons and Nick Offerman, performing the title track from their Brett Haley-directed film.
This year's U.S. Dramatic Jury included actors Octavia Spencer, Jada Pinkett Smith and Michael Stuhlbarg, as well as director Joe Swanberg and Oscar nominated "Mudbound" cinematographer Rachel Morrison.
The Sundance Film Festival, an annual program of the Sundance Institute founded by Robert Redford, is the largest independent film festival in the United States held in January in Park City and Salt Lake City, Utah, as well as at the Sundance Resort. The festival is a showcase for new works from U.S. and international independent filmmakers.
(SD-Agencies)