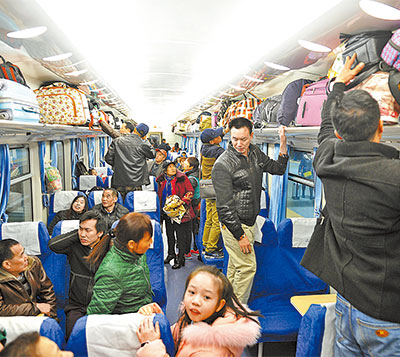 Zhang Qian
zhqcindy@163.com
BOARDING the first temporary train leaving Shenzhen East Railway Station in Buji, Longgang District, for Chongqing in Southwest China in the early morning Thursday, approximately 1,900 people embarked on their journey home for the Chinese New Year.
By 6 p.m. Thursday, the first day of this year's 42-day Spring Festival travel rush, more than 345,000 people had left Shenzhen by taking trains, buses, boats and planes, according to the city's Spring Festival Transport Office.
It is estimated that the number of passengers departing from train stations in Luohu and Longgang districts during the period, known as Chunyun, lasting from Thursday to March 12, will be around 3.21 million, rising 6.95 percent over last year.
The number of outbound passengers taking high-speed trains from Futian Station and Shenzhen North Railway Station is estimated to hit 5.64 million.
To cater to people going back to their hometowns for festival reunions, all train stations in Shenzhen will add more regular and high-speed trains during the peak season.
A large number of new self-service and facial recognition facilities have been installed at train stations in Shenzhen to help passengers save time checking in, accessing the platforms and applying for ID replacement in emergencies, according to the train stations.
In addition, bullet trains leaving Shenzhen for Guangzhou Railway Station scheduled for Feb. 1-14 and Feb. 21-March 12 will be rerouted to make the final stop at Guangzhou East Railway Station and skip Guangzhou Railway Station, which is always overburdened with passengers during the Spring Festival.
The Shenzhen airport estimated that a total of 5.43 million people will use the airport during the traffic rush, with the daily passenger flow to hit 150,000 on peak days from Feb. 8 to Feb. 14 and from Feb. 21 to Feb. 25.
More trains will be added on Metro Line 11 to carry passengers from Futian Station to the airport during rush hours on working days starting Monday, according to Shenzhen Metro Group.
Nationwide, more than 140,000 young volunteers will be working at railway and long-distance bus stations across the country to help travelers during this year's Spring Festival travel rush, according to the Communist Youth League Central Committee's volunteer activity center.
About 2.98 billion trips are expected to be made during the 2018 Spring Festival travel rush nationwide. Hundreds of millions of Chinese will return to their hometowns for family gatherings or travel around the country during the period, putting huge pressure on the transportation system.
The number of road trips is projected to reach 2.48 billion, a 1.6-percent decrease from last year, while train trips are likely to top 390 million, up 8.8 percent year on year, the National Development and Reform Commission said in an earlier statement.
Air travel will likely top 65 million trips, surging 10 percent from last year, while boat trips are predicted to reach 46 million during the period.
China's railway network hit 127,000 km in length at the end of 2017, including 25,000 km of high-speed railway. Last year, construction of 3,038 km of new rail tracks began, which is expected to further reduce pressure on transportation in the future.
The Spring Festival, or Chinese Lunar New Year, falls on Feb. 16 this year.