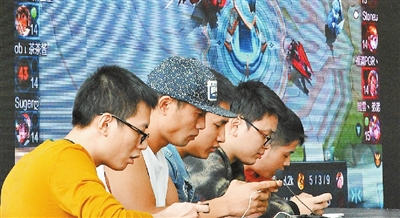 MOBILE gaming is growing stronger in China, accounting for over half of the total gaming sales in 2017, according to a report yesterday.
The gaming market grew by 23 percent year on year to 203.6 billion yuan (US$32.2 billion) last year, said a report by the Game Publishers Association Publications Committee, also known as the GPC.
The report said that mobile gaming accounted for 57 percent of the total game sales and reached 116.1 billion yuan and suggested that the mobile gaming segment will gradually play a more important role in the overall gaming market.
As present, China has 583 million gaming players, most of whom were born in the 1990s and 2000s, a group referred to as millennials.
Compared to people born in the 1990s, those born in the 2000s are more active in the gaming market, the report said, adding that nearly 10 percent of mobile gaming players were teenagers born in the 2000s as of 2016.
Chen Rui, chairman of popular Chinese video-sharing platform Bilibili, said there was a clear difference in the demand for cultural content from the younger generation and their parents.
"The increased material wealth, high-quality education environment and the access to Internet services have enabled the young generation's diversified and personalized cultural needs," said Chen.
High-definition smartphone displays, innovative mobile Internet technologies and improved software make on-screen watching and playing more convenient and pleasurable, according to Chen.
Xiao Hong, CEO of Perfect World Co. Ltd., a Chinese movie and gaming firm, said in an interview with online gaming media 17173 that the digital-era teenagers are more tech-savvy and have a stronger sense of independence compared to their parents.
(SD-Agencies)