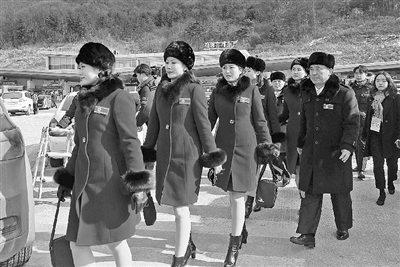 A 229-MEMBER strong, all-female North Korean cheering section arrived in Gapyeong, South Korea, yesterday for the PyeongChang Winter Olympics.
It's the first time a cheering squad from the North has come in 13 years. The arrival of the squad has been highly anticipated in the South and also in Japan, where the squads have many fans, particularly among young men.
They are popular for their highly polished style of cheering, replete with drums, pompoms and other props depending on the event. They often wear matching uniforms and display the well-practiced unified precision that is a hallmark of North Korean mass events.
Meanwhile, Kim Yo Jong, the sister of North Korea's top leader Kim Jong Un, will come to South Korea later this week to attend the Winter Olympics, Seoul's unification ministry said yesterday.
The North notified South Korea earlier in the day of the list of its high-ranking delegation, which will be led by Kim Yong Nam, president of the Presidium of the Supreme People's Assembly.
Kim Yo Jong, the first vice director of the ruling Workers' Party of Korea Central Committee, was included in the high-ranking delegation scheduled to stay in South Korea from Friday to Sunday for the 23rd Winter Olympics. (SD-Xinhua)