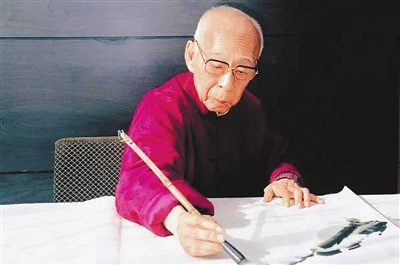 TRIBUTES poured in from Chinese personalities and cultural elites across the globe Tuesday for Professor Jao Tsung-I, the world's most distinguished sinologist, following his death at the age of 101.
Jao, who died peacefully at home in Happy Valley, Hong Kong, early Tuesday morning, was revered for his intellectual achievements spanning eight decades and considered irreplaceable in the study of Chinese and Oriental civilizations.
"My father passed away peacefully in his sleep," said Tang Wai-hung, Jao's son-in-law, adding that the celebrated scholar had pneumonia but that it was not the cause of death.
Chief Executive Carrie Lam Cheng Yuet-ngor led mourners in expressing sorrow at Jao's death as she visited his family. "Professor Jao's research, spanning decades, covered areas including history, literature, language and religious studies as well as philosophy, arts and Chinese and Western cultures," she said. "Professor Jao, you have been a treasure of the academic and arts sectors in Hong Kong and across the world. You will be sorely missed."
Jao was regarded as one of China's two greatest sinologists, together with Ji Xianlin on the mainland, who died in 2009.
Premier Li Keqiang hailed Jao as the "pride of Hong Kong" during a meeting between the two at Beijing's Zhongnanhai in 2015.
The Jao Tsung-I Academy in Kowloon, at the former Lai Chi Kok Hospital complex, bears the professor's name.
Born in Chaozhou, Guangdong Province, in 1917, Jao was self-taught. After quitting school in Form One, he immersed himself in the extensive book collection of his banker father. From then on he excelled in the humanities, studying everything from Indian Sanskrit to the art of the Dunhuang grottoes.
The scope of Jao's research spanned more than a dozen topics related to Chinese culture, including ancient history, oracle bone inscriptions and Chu Ci — an anthology of Chinese poetry with roots in the Warring States period (475-221 B.C.).
A prolific writer, Jao is credited with producing more than 900 scholarly articles in addition to literary works, calligraphy, paintings, and pieces for the guqin, or Chinese zither, an ancient stringed instrument.
"It's impossible to copy what I did as I built up my own knowledge out of nothing. Such a path to knowledge might be worth some consideration," Jao once said in an interview.
He arrived in Hong Kong in 1949 and joined New Asia College in 1952 where he taught poetry classics, Chu Ci, and literary criticism. He also continued to dabble beyond the Chinese cultural realm, teaching everything from archaeology to ancient philology in India, the United States, Singapore and France.
In 2000 he was given the Grand Bauhinia Medal, the highest award under Hong Kong's honors system, and in 2013 he became the first Asian sinologist to be named an associate foreign member of the Institut de France since its founding in 1663.
His last major public outing was to Beijing in November for an exhibition displaying 126 of his lotus flower paintings, which he once said represented his sentiment towards Hong Kong.
Jao is survived by two daughters and a grandchild. His funeral is scheduled for Feb. 28. (SD-Agencies)