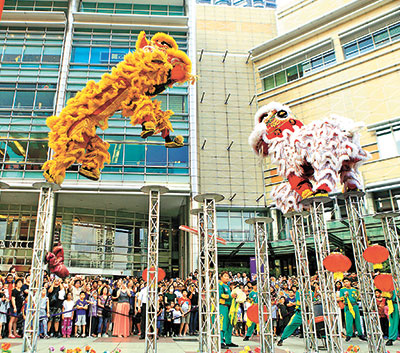 HUNDREDS of cultural and sports events will be held during the Spring Festival holiday for people celebrating the Chinese Lunar New Year in Shenzhen, according to the city- and district-level culture, sports and tourism authorities.
All city-level public cultural venues, such as the Shenzhen Library, Shenzhen Museum, and Guan Shanyue Art Museum, will remain open for free to the general public during the holiday.
Apart from its normal exhibitions, the Shenzhen Museum will also exhibit exquisite art entries from the International Museum of Ceramics in Faenza, Italy, and Buddhism-themed art pieces. The Shenzhen Library has also launched an online reading campaign that will last until March 4 in cooperation with the National Library.
The 6th China Illustration Biennial will be held at the Guan Shanyue Art Museum. The biennial, known as the most authoritative, professional, and high-standard of its kind, will exhibit over 20,000 illustrations. Meanwhile, other painting exhibitions will also be available at the museum.
Municipal and district gymnasiums, tennis and badminton courts, and swimming pools will be open during certain periods of the Spring Festival holiday. Residents can make appointments for free entry in advance.
Government departments of all levels will organize fun sports meetings during the festival, such as square dance competitions, rounds of tug-of-war, fitness training and soccer races.
There will also be loads of celebratory activities at major tourist attractions. Window of the World will put up a Turkey-themed show to bring exotic performances to visitors, and Happy Valley is bringing in a clown carnival, a traditional lion dance competition and light shows for residents' viewing pleasure.
For those who'd like to experience the Chinese New Year's most-authentic customs, theme park Splendid China • Chinese Folk Culture Villages might be a good choice as a large-scale Spring Festival fair will be staged to represent the country's folk cultures in Lunar New Year celebrations.
In eastern Shenzhen, a beer and music carnival will be held at Overseas Chinese Town East. The theme park will also put on a Swiss festival to attract holidaymakers. The other theme parks in Shenzhen, including the safari park and Ocean World, are also trying their best to entertain tourists during the holiday.
Other culture-related departments around the city have also prepared various shows, such as Peking Opera, Chinese folk music performances, lion dances and lantern riddles.
The Spring Festival falls on Friday this year, kicking off the Year of the Dog. The year ends Feb. 4, 2019, according to the Chinese lunar calendar.
With over 4,000 years of history, the Spring Festival remains the most important cultural holiday for Chinese people. The festival begins officially on the first day of the first lunar month (usually in late January or early February) and ends on the 15th day of the first lunar month (the Lantern Festival), thus lasting 15 days.
Celebrations include having an annual reunion dinner on Chinese New Year's Eve, setting off firecrackers, giving lucky money to children, ringing the New Year bell, sending Chinese New Year greetings, dragon and lion dancing, and Niu Yangge (traditional dances from northern China).
The Lunar New Year is called "Guonian" in Chinese. "Guo" means to pass over and "nian" means "year" as well as refers to a mythical beast that brings bad luck.
(Zhang Qian)