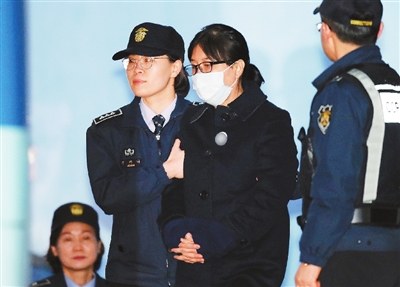 THE friend of former South Korean leader Park Geun-hye, who was at the center of an influence-peddling scandal that rocked the country's business and political elite, has been sentenced to 20 years in jail, a Seoul court said yesterday.
Choi Soon-sil, a confidante of Park, was convicted of receiving bribes from South Korean conglomerates including Samsung, the world's biggest maker of smartphones and semiconductors, and the Lotte Group.
Park was dismissed from the presidency last March after being impeached and standing trial separately on charges of bribery, abuse of power and coercion. She denies any wrongdoing.
The court also sentenced the chairman of Lotte, the country's fifth-largest conglomerate, to two years and six months in prison yesterday and ordered his immediate arrest.
The chairman, Shin Dong-bin, was in court and taken into custody.
His arrest creates a leadership vacuum at Lotte, a retail-to-chemicals giant with 110.8 trillion won (US$102 billion) worth of assets, as it navigates mounting losses at its China operations.
The verdict comes at a time when Lotte, a sponsor of the Winter Olympics currently on in South Korea, had stepped up marketing in a bid to promote its brand. Shin, who is also president of the Korea Ski Association, was staying in PyeongChang, the venue of the Games, before coming to Seoul for the court verdict.(SD-Agencies)