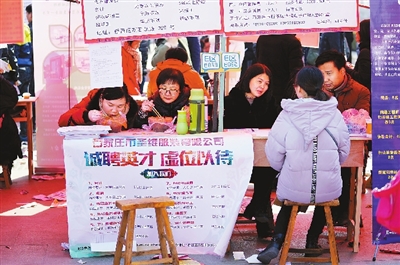 THOUSANDS of jobseekers and hundreds of companies gathered on the grounds of the old train station in the northern city of Shijiazhuang last week to mark the start of the traditionally-busy hiring season.
In this city of 10 million known for heavy industry, crowds of job hunters browsed information about positions at firms ranging from steel parts makers to environmental protection companies.
"I've been urgently looking for a new job since the holiday ended a few days ago," said Wang Xinjie, who works at auto manufacturer Great Wall Motors in nearby Baoding.
"I want to find a new job with a higher salary and more opportunity for growth," he added in remarks that were echoed by many at the fair.
China's labor market has been remarkably resilient over the last two years despite a campaign to close outdated industrial plants and as low-end exporters move offshore to cheaper countries in South and Southeast Asia.
Restructuring in the industrial sector was expected to lead to millions of layoffs, including in Hebei, China's largest steel producing province where Shijiazhuang is located, but there have been few signs of large-scale unemployment.
The large State firms that dominate heavy industry have often kept redundant workers on their payrolls, though sometimes at lower salaries. And local governments have stepped in to offer training and redeployment services in a bid to avoid a rise in unemployment.
The Central Government has funneled significant funds into supporting the industrial sector, including a new 350-billion-yuan (US$55.2 billion) fund to help restructure State enterprises, and 100 billion yuan to finance layoffs in the coal and steel sector. Both initiatives were announced in 2016.
A rebound in the economy has also helped. A housing boom and a jump in infrastructure investment last year helped spark a dramatic turnaround in China's industrial sector.
And with winter pollution curbs set to expire this month, steel producers are eager to ramp up production to take advantage of high prices and strong demand.
A representative from Shijiazhuang steel-focused conglomerate Hebei Jingye Group said at the job fair that the company was recruiting a large number of new staff this year.
Fast-growing consumer services and technology industries have also helped pick up the slack in job growth.
Government officials boast that 13.51 million new jobs were created in China last year, and a tight labor market in some sectors have driven salaries up significantly.
But some companies say hiring has become more difficult as graduates demand more in terms of salary and types of jobs.
"Young people either want to be their own boss and start their own business, or they lack independence to the point that their parents accompany them to the job fair," said Wang Yandong, a representative of Hebei Hengxin Wire Mesh Manufacturing.
(SD-Agencies)