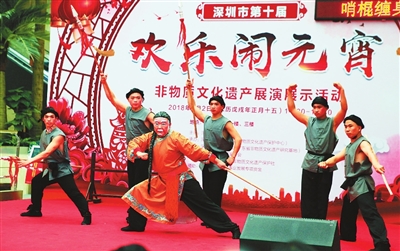 Cao Zhen
caozhen0806@126.com
IF you spent your Lantern Festival doing traditional activities like eating tangyuan (glutinous rice balls), solving riddles or watching lion dance performances over the past weekend, next year try something different.
"In the past, native Shenzhen people living in villages would consecrate big tuber-like fried glutinous rice balls, steal vegetables from neighbors, light lanterns in ancestral halls or eat basin dishes together," said Liao Honglei, a former government official who has been researching Shenzhen folk customs for decades and has published several books on the subject.
A native of Shiyan Subdistrict in Bao'an District, Liao, 72, said he was lucky to witness the old customs during his childhood, some of which are still celebrated in small niches across Shenzhen. "The Lantern Festival is of great significance in China since it was celebrated as early as in the Western Han Dynasty (206 B.C.- 25 A.D.). It is the final day of the Spring Festival celebrations, after which people will resume farming. So the Lantern Festival marks the last opportunity for people seeking pleasure," said Liao at a cultural salon at Shenzhen Museum on Saturday.
He said that when he was a child, farmers would unlock their fences to allow neighbors to "steal" vegetables, an exchange that symbolized good luck. In Guangdong, some vegetables are auspicious symbols due to homophony, with "lettuce" meaning "make a fortune," "pumpkins" symbolizing gold and "green onions" meaning "intelligence."
"Stealing vegetables was also a great chance for singles to get acquainted with their sweethearts in the fields," said Liao.
On the Spring Festival and the Lantern Festival, traditional Guangdong people would worship their ancestors by consecrating snacks. Since the shape of the arrowhead flower's (sagittaria sagittifolia, 茨菇) tuber is round with a stick, resembling a male genital, families would consecrate it (or tuber-shaped fried glutinous rice balls, which are sweet, crispy and chewy) to ancestors in the hopes of having more sons.
"In the Xixiang, Gongming and Nantou areas, the balls are hollow due to the expansion of the dough, while in Shajing, Xinqiao and Fuyong areas, the balls are filled with a filling usually consisting of lotus paste and peanut butter," said Liao.
Families who had a baby boy born in the past year would light a lantern written with the baby boy's name, hang it in ancestral halls and treat tangyuan to neighbors. Those who have a baby girl or no child in the past year were allowed to "steal" the lanterns and hang them in their home.
"On this occasion, to 'steal' actually signifies to 'ask for luck,' so families with baby boys were proud to have their lanterns 'stolen.' In Cantonese and Hakka dialects, 'light lanterns' is a homophone for 'having a baby boy,' but nowadays families with either a boy or a girl born will light lanterns," said Liao.
In Futian's Xiasha Village, basin dish (盆菜) feasts, usually held around the Lantern Festival, are shared among residents of a common ancestor, and therefore having the same surname, as a reunion. It is an outdoor dinner party with hundreds of people eating traditional Cantonese dishes served in only one basin for each 10-person table. Since ancient times, the people in Guangdong's coastal areas have followed the custom of eating the big basin dish on the Lantern Festival. The dish normally contains tofu, abalone, scallops, dried oysters, mushrooms, duck meat, chicken meat and sausages.
Liao recommended people to visit Yu'er community, near Dongjiaotou Metro Station, next year on the 13th day of the first lunar month to experience the Kaiding Festival.
According to custom, families in which boys ("ding" in Chinese) were born in the previous year would invite people to have refreshments.
The families normally treat 100 bowls of Kaiding Tea made from a variety of ingredients, including vermicelli, vegetables and small shrimps, to neighbors or visiting strangers. "It is popularly believed that families entertaining a large number of guests on that day will become prosperous in the New Year. On the other hand, those who eat more bowls will be blessed as well," said Liao.
Liao's ancestors moved to Bao'an in 1762 from Meizhou, a city in eastern Guangdong. "Urban villages in Shenzhen are very vibrant, and villagers have retained their customs. Since the country has made some traditional Chinese festivals official holidays, young people or migrants are gradually learning and inheriting the customs, which are vigorously growing," he said.