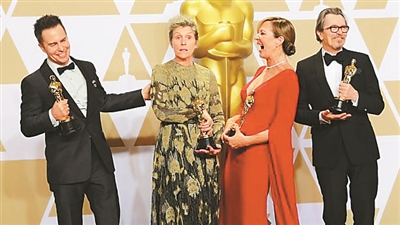 "THE Shape of Water," about a woman who falls in love with a sea creature, has taken the top honors at the Oscars.
Frances McDormand won best actress for "Three Billboards Outside Ebbing, Missouri," and persuaded every female nominee to stand with her in a night full of statements about inclusion.
Britain's Gary Oldman was named best actor for playing Winston Churchill in World War II epic "Darkest Hour."
"The Shape of Water" won the most Oscars with four, including best film and director.
In her acceptance speech, McDormand put her Oscar on the floor in front of her and addressed executives as the female nominees got to their feet. It was one of the most powerful and symbolic moments of the night.
"Look around, ladies and gentlemen, because we all have stories to tell and projects we need financed," she said.
"Don't talk to us about it at the parties tonight — invite us into your office in a couple of days, or you can come to ours, whatever suits you best — and we'll tell you all about them."
Her request came amid a push for greater equality in film — especially in the wake of the Hollywood sexual harassment scandal.
She finished her speech with the words: "I have two words to leave you with tonight — inclusion rider."
Backstage, McDormand explained that an inclusion rider is a clause that actors can put in their contracts to insist on at least 50 percent diversity in the film's cast and crew.
"We're not going back," she said in the winners' room.
"This whole idea of women trending? No. No trending. African Americans trending? No. No trending. It changes now, and I think the inclusion rider will have something to do with that."
McDormand received a rousing reception for her best actress win, which came for playing a vengeance-seeking mother who is let down by the authorities after her daughter is raped and murdered.
It's her second Oscar, 21 years after her first for "Fargo."
Jennifer Lawrence presented her with the best actress award and introduced the category by saying: "It's a new day in Hollywood, with new challenges ahead for all of us.
"But none of us will ever forget those who came before us — those who blazed a trail for my generation and those to come."
The ceremony also marked the "Me Too" and "Time's Up" campaigns with a segment presented by actresses Ashley Judd, Salma Hayek and Annabella Sciorra, who have all accused Harvey Weinstein of sexual misconduct.
"The changes we are witnessing are being driven by the powerful sound of new voices, of different voices, of our voices, joining together in a mighty chorus that is finally saying: Time's up," Judd said.
Host Jimmy Kimmel addressed the issue head-on in his opening monologue, saying the downfall of Weinstein, and the reforms that had begun since, had not come soon enough.
"What happened with Harvey and what's happening all over was long overdue," he said. "We can't let bad behavior slide any more. The world is watching us."
Accepting his first-ever Oscar, Gary Oldman mentioned his 98-year-old mother, among other people, telling her: "Thank you for your love and support. Put the kettle on. I'm bringing Oscar home."
"The Shape of Water", directed by Mexico's Guillermo del Toro and starring British actress Sally Hawkins as a mute cleaning lady who has a relationship with a mysterious river-dwelling creature, had led the Oscar race with 13 nominations.
Hollywood legends Warren Beatty and Faye Dunaway — who announced the wrong best picture winner last year — returned to present the same award this time.
The contest had been wide open — "Three Billboards" had also been hotly tipped, while "Get Out," a savage satire on hidden liberal racism, had a wave of late support.
In Daniel Kaluuya, "Get Out" also had a British actor in the lead role. It won one prize on the night — best original screenplay for its writer-director Jordan Peele.
Christopher Nolan's "Dunkirk," another action-packed war drama, won three awards in the technical categories.
(SD-Agencies)
Other notable
winners included:
Allison Janney, hitherto best known for "The West Wing," won best supporting actress for "I, Tonya."
Sam Rockwell was named best supporting actor for playing a racist policeman in "Three Billboards."
James Ivory, the director and writer of Merchant Ivory fame, won best adapted screenplay for "Call Me By Your Name." At 89, he was born before the first Academy Awards took place.
Chile's "A Fantastic Woman," with an acclaimed central performance by transgender actress Daniela Vega, was named best foreign language film.
Basketball superstar Kobe Bryant won best animated short for "Dear Basketball" — a retirement letter he wrote to the sport, which he paid veteran Disney artist Glen Keane to animate.
British cinematographer Roger Deakins finally won an Oscar at the 14th attempt for "Blade Runner 2049."