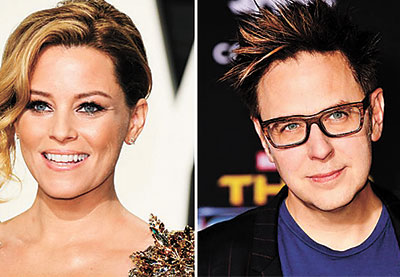 ACTRESS Elizabeth Banks is reuniting with James Gunn, who directed her in 2006's "Slither," for an untitled horror film.
Gunn, the filmmaker behind the "Guardians of the Galaxy" pics, is producing the movie with The H Collective, which is fully financing and producing it.
Brian and Mark Gunn wrote the script for the project. The logline is being kept in the dark for now.
David Yarovesky, who co-wrote and helmed the 2015 horror movie "The Hive," is sitting behind the camera for the project, which is eyeing a production start in the spring.
"Elizabeth and I have been on the same artistic page since we first met when she auditioned for 'Slither' back in 2005," said Gunn in a statement. "She's since remained one of my best friends in the world, and I've been fighting tooth and nail to work with her again. She's the perfect partner to Yarvo, the H Collective and myself in creating this very special project."
Banks is coming off "Pitch Perfect 3," which she produced as well as acted in, and recently wrapped "The Happytime Murders" opposite Melissa McCarthy. She also is prepping her next directorial effort, a reboot of "Charlie's Angels," at Sony.(SD-Agencies)