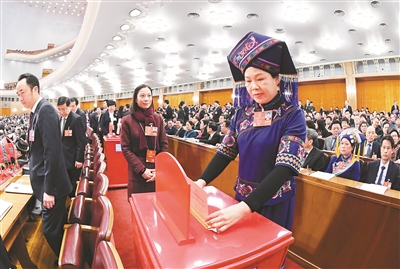 CHINA'S national legislature yesterday afternoon adopted a constitutional amendment, enshrining Xi Jinping Thought on Socialism with Chinese Characteristics for a New Era into the Constitution.
"As an important content of the amendment, the inclusion of Xi's thought into the country's fundamental law reflects the common aspiration of the entire Party and all Chinese people of various ethnic groups," said Shen Chunyao, chairman of the Commission for Legislative Affairs of the 12th NPC Standing Committee, at a press conference on constitutional revisions.
Xi's thought is the latest achievement in adapting Marxism to the Chinese context and encapsulates the practical experience and collective wisdom of the Communist Party of China (CPC) and the people, Shen noted.
"It has been the fundamental theoretical guide for the historic achievements and shifts made in the cause of the Party and the country since the 18th CPC National Congress," Shen said.
The addition of Xi's thought and the Scientific Outlook on Development has ensured the country's guiding theories advance with the times, according to Shen.
The amendment also writes "the leadership of the Communist Party of China (CPC) is the defining feature of socialism with Chinese characteristics" into the Constitution.
The Constitution has always been very clear and consistent on the CPC leadership. By writing the new sentence into the Constitution, the principle was strengthened, deepened and expanded, said Shen.
The revision has reflected the fundamental, comprehensive and contemporary nature of the CPC leadership, he said.
The Party exercises overall leadership over all areas of endeavor in every part of the country, he added.
The supervisory commissions are also listed as a new type of State organ in the Constitution, while building "a community with a shared future for humanity" is also written into the Constitution.
This was the first amendment to the country's fundamental law in 14 years.
The People's Republic of China enacted its first Constitution in 1954. The current Constitution was adopted in 1982 and amended in 1988, 1993, 1999 and 2004.
While the reform and opening-up drive, which began 40 years ago, has made amazing progress, it brought major changes to the country's Constitution.
From 1988 to 1999, amendments included reform of land use rights, a legal status for the private economy, the theory of building socialism with Chinese characteristics, replacing the phrase "planned economy" with "socialist market economy," and incorporation of Deng Xiaoping Theory.
The most recent amendment in 2004 protected private property and human rights, and gave the Theory of Three Represents constitutional authority.
A constitutional change is either proposed by the NPC Standing Committee or by more than one-fifth of all NPC deputies, and then requires the approval of two-thirds or more deputies during the annual session.
(Xinhua)