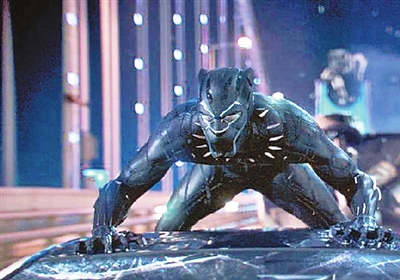 MARVEL'S "Black Panther" continues its record-breaking streak, passing the US$1 billion mark at the global box office in just 26 days.
The Ryan Coogler tentpole is the 33rd movie to gross US$1 billion.
It's the 16th Disney film to reach this milestone, and the fifth Marvel film to do so — joining the ranks of "The Avengers," "Avengers: Age of Ultron," "Iron Man 3" and "Captain America: Civil War."
"Black Panther" has grossed US$521 million in the U.S., making it the ninth-highest release of all time. In its fourth weekend, "Black Panther" is heading for a US$37 million-plus weekend, which would then make it the No. 2 superhero release of all time over "The Dark Knight's" US$535 million.
It would also give "Black Panther" the third-highest-grossing fourth weekend of all time, taking the title from "The Avengers" with US$36.7 million. "Avatar" and "Star Wars: The Force Awakens" currently hold the one and two spots, with US$50.3 million and US$42.4 million respectively.
A 44 percent drop for the tentpole's fourth weekend would be on par with its third weekend decline of 41 percent.
Internationally, "Black Panther" is aiming for the US$500 million mark this weekend, thanks to a strong debut in China, where it opened with US$20 million in its first day.
"Black Panther" has been lauded for its diversity as a big-budget superhero tentpole with a nearly all-black cast.
Set in the fictional African nation of Wakanda, Chadwick Boseman stars alongside Angela Bassett, Forest Whitaker, Lupita Nyong'o, Danai Gurira and Michael B. Jordan.
(SD-Agencies)