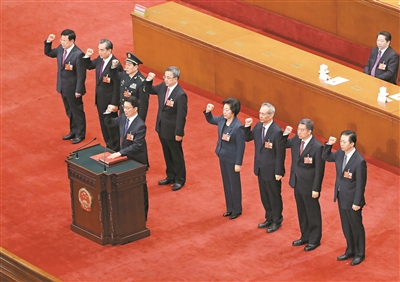 THE 13th National People's Congress (NPC), China's national legislature, decided on the new lineup of the State Council at the seventh plenary meeting of its first session yesterday morning.
Chinese leaders including Xi Jinping, Li Keqiang, Li Zhanshu, Wang Yang, Wang Huning, Zhao Leji, Han Zheng and Wang Qishan attended the plenary meeting.
Nearly 3,000 NPC deputies voted to endorse vice premiers, State councilors, secretary-general of the State Council, ministers, governor of the central bank, and auditor-general, who were nominated by Premier Li Keqiang.
Among them, Han Zheng, Sun Chunlan, Hu Chunhua and Liu He were endorsed as vice premiers, while Wei Fenghe, Wang Yong, Wang Yi, Xiao Jie and Zhao Kezhi were endorsed as State councilors.
They were officially appointed after President Xi Jinping signed a presidential decree.
Legislators also voted to approve the chairpersons, vice chairpersons and members of eight special committees of the 13th NPC at the meeting.
All of them took the oath of allegiance to the Constitution afterwards.
Wei Fenghe was endorsed to head the Ministry of National Defense while Wang Yi was endorsed to head the Ministry of Foreign Affairs.
Sun Shaocheng will head the new Ministry of Veterans Affairs, while Zhong Shan was nominated to head the Ministry of Commerce.
Yi Gang was endorsed as governor of the People's Bank of China, the central bank. Yi, 60, who has been the deputy governor of the central bank since 2007, will succeed his mentor Zhou Xiaochuan, China's longest serving central bank chief, who has been in the position for 15 years.
Yi joined the People's Bank of China (PBOC) in 1997, and worked as head of the State Administration of Foreign Exchange (SAFE) between 2009 and 2016. He has served as a deputy governor of the central bank since 2007.
Yi studied at Peking University, Hamline University and the University of Illinois from 1978 to 1986, and has a BA in Business Administration from Hamline University and a Ph.D. in Economics from the University of Illinois. Like his predecessor, Yi is a fluent English speaker.
(SD-Xinhua)