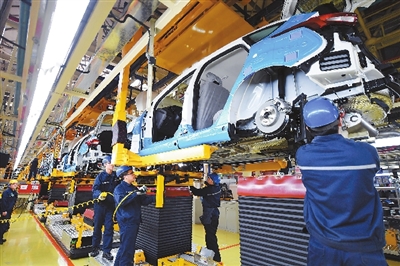 AFTER 20-odd years of "marriage" in China, Ford Motor Co. is having relationship issues.
The U.S. automaker, losing ground in the world's largest car market, is trying to maintain trust and respect in its partnerships with Changan Automobile Group and Jiangling Motors Group (JMC), putting pressure on sales efforts, according to four sources at Ford and its China joint ventures (JVs).
"Changan and Ford have already been married for (nearly two decades) but we still don't trust each other," one of the sources said.
In an effort to improve relations and reverse a recent sales slump, Ford is preparing for a new product blitz and a campaign to localize management in China, according to Peter Fleet, head of Ford's Asia-Pacific operations.
Ford sales fell 6 percent last year even as overall vehicle sales in China rose 3 percent. Sales during the first two months of this year are down 23 percent.
Fleet said the company was looking beyond the sales numbers to focus on "structural priorities."
"I think our partnerships are in good shape, and I want them to be even better," Fleet said in an interview.
It will likely take Ford until next year, when the first of the wave of new vehicles arrives in showrooms, to start regaining momentum in China.
"This year will be a bit like going through a tunnel," Fleet said. "We have to get through 2018."
By 2025, however, Fleet says the U.S. automaker plans to boost China revenue by 50 percent from 2017 levels, largely by launching more than 50 new or redesigned products. Those new cars include 15 electric vehicles.
Over the past 12-18 months, tensions in Ford's China partnerships began impacting the morale of the joint ventures' sales forces, made up mostly of local workers from its Chinese partners, according to three of the sources — a Changan official and two Ford China insiders.
"At Changan-Ford, Ford often tries to intrude far into our territory; they're interventionist and are most aggressive among global automakers at trying to have their say on how we run our day-to-day activities," the Changan official said. "That makes our job sometimes difficult."
Ford has so far collaborated little with Changan or JMC on product development, with only the Escort car and the seven-seater Edge crossover SUV to show for in terms of China-specific models.
Ford also promised to hire and promote more Chinese to replace expatriate employees, many of whom lack the cultural background and language skills to work effectively with their JV counterparts, according to three Ford sources.(SD-Agencies)