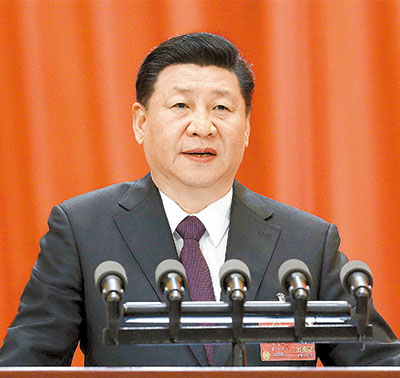 PRESIDENT Xi Jinping delivered a keynote speech at the closing meeting of the country's top legislative session in Beijing yesterday.
In the speech, the newly elected president vowed to continue to serve as a servant of the people, expressing his heartfelt gratitude to the trust placed in him by all deputies and Chinese people of all ethnic groups.
It is the people who have created the history and they are the real heroes. Chinese people have the spirit of creativity, hard work and unity, and are great dreamers, Xi said.
He reaffirmed his commitment to serve the people and fulfill his legal obligations.
Happiness comes with hard work. If Chinese people hold the spirit of working hard, we can achieve the goal of creating a better life, said Xi.
Xi stressed that Chinese people are well aware that unity is power and a driving force to move the nation forward, adding it is impossible for a divided and fractured nation to advance.
Xi noted that all power in the country belongs to the people.
He urged all civil servants to always put people at the highest place, wholeheartedly serve the people and work for the people's interests and happiness.
China has continuously striven for its dream of realizing great national rejuvenation for over 170 years, said Xi.
History has proved and will continue to prove that only socialism can save China. Only by sticking to and developing socialism with Chinese characteristics can the Chinese nation realize its great rejuvenation. The CPC and its leadership are the defining features of socialism with Chinese characteristics, he said.
The 19th CPC National Congress has drawn up a lofty blueprint for securing a decisive victory in building a well-off society in all respects, starting a new journey of building a modern socialist country, and achieving the rejuvenation of the Chinese nation, he said.
Turning the grand blueprint for China into reality is the new Long March. China's goal is to build a socialist, modern country by the middle of the 21st century.
China is willing to make contributions to peace and development of humanity, and the fate of Chinese people is always closely linked to that of others. China won't develop itself at the expense of others and China's development won't pose a threat to any country, said Xi.
China holds the view that world affairs should be managed through consultation between the people of all countries, said Xi, noting that China will not impose its own will on others.
(Xinhua)