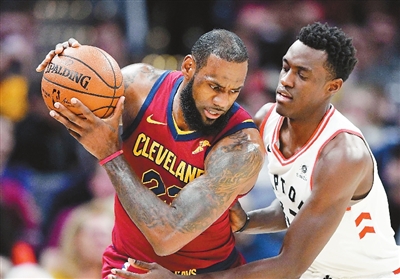 PLAYING against the Eastern Conference-leading Raptors on Wednesday night, LeBron James led the Cavaliers Cleveland to an exciting 132-129 home win.
James scored 35 points with 17 assists and zero turnovers. In doing so, James became the first player with at least 35 points, 15 assists and no turnovers in a game since turnovers were first tracked in 1977-78.
LeBron James is the third player in the past 10 seasons to record 17 (or more) assists without a turnover in a game.
Chris Paul did it twice during the 2016-17 season.
Rajon Rondo did it twice (once in 2010, once in 2014).
Kevin Love added 23 points, including a 3-pointer with 27.5 seconds left to go up 128-124, and George Hill had 22 on 10 of 11 shooting for the Cavaliers, who won their third straight and for the fourth time in five games.
"I told you guys how much I missed him, how much this team missed him," James said on ESPN of Love and his big 3-pointer off a James assist. "Somebody I can always rely on because of all of the things that we've been through.
"So when I drove the lane, I seen Serge Ibaka ... knowing Serge's tendency is to come block shots, I knew that I was going to have Love in that short corner and he knocked it down."
Kyle Lowry had 24 points and DeMar DeRozan had 21 to lead the Raptors, who came into the game winners of 19 of 21 but who have lost two of three.
After a high-scoring first quarter in which the teams combined for 80 points, with Cleveland claiming a 42-38 lead, the Raptors dominated the second frame, 41-22, to take a 79-64 halftime lead. Just when Toronto thought it had the game in the bag, though, the Cavaliers owned the third quarter, 34-20, and went into the fourth trailing 99-98.
The teams traded leads in the fourth quarter but Cleveland seized control late and DeRozan missed a long 3-point attempt as time expired to give the Cavaliers an important win.
Cleveland relied heavily on its offense in the win, shooting 60 percent from the field, 63 percent from 3-point range and 82 percent on free throws to outmatch a Raptors squad that shot 54 percent.
James was asked if he knows what the roster is capable of.
"No, I don't," he said. "But we're working our tail off to keep this ship above sea level, above the water.
"If we continue to play like we did tonight, even with all the injuries, even with all the adversity, even with the lost ones of some of our brothers' family, we'll be OK."
The Cavaliers' starting five shot a combined 38 of 61 from the field, with Jeff Green adding 15 points and Jose Calderon chipping in 14.
Toronto got a big game from its bench, which combined to score 48 points.
Meanwhile, Hornets center Dwight Howard became just the fifth NBA player to score at least 30 points and grab at least 30 rebounds in a game Wednesday during a 111-105 win over the Nets. Howard scored 32 points with 30 rebounds, joining Kevin Love, Moses Malone, Robert Parish and Kareem Abdul-Jabbar as the only players to accomplish the feat.(SD-Agencies)