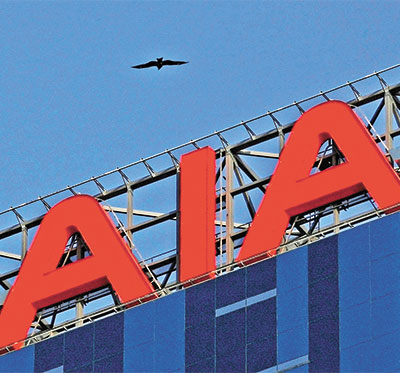 WHEN Zhang Xixi, a 25-year-old staffer at an online financial company in Guangdong Province, decided last year to buy personal insurance for the first time, he was swamped with options.
Local insurers rushed to offer him products with attractive financial returns. In the end, he decided on a simpler, "more reliable" product sold by a unit of a U.S. life insurer.
Customers like Zhang are helping overseas insurers quickly gain market share in China, aided by a regulatory crackdown on short-term investments packaged as insurance that has hurt many of their local rivals.
The growth of China's middle class and their rising wages have meant more people are looking for insurance, said Asia-focused AIA's regional chief executive, John Cai, who leads the company in China and some Southeast Asian markets.
"We have the differentiated strategy by focussing on selling protection products ... and we reaped the benefit of that," he said, referring to a 60-percent jump last year in the company's value of new business on the mainland, up from a growth rate of 54 percent in 2016.
Overseas insurers, including AIA Group, Aviva and Prudential, have been in China for decades, but their collective market share is still below 10 percent as a result of regulatory restrictions and limited awareness about insurance as coverage rather than an investment.
Current rules limit foreign holdings in Chinese insurance joint ventures to 50 percent.
The government said last year it planned to lift the ownership cap to 51 percent for foreign insurance joint ventures in 2020 and remove the limit completely two years later, which would allow for further expansion.
Both Prudential and Aviva saw new business profit in China, a key measure of long-term profitability, more than double last year on the back of higher demand for traditional protection products.
Many overseas insurers are strengthening their presence in smaller cities, where insurance penetration — measured in terms of the value of premiums underwritten as a percentage of gross domestic product — is lower than 3 percent of GDP figure for the country as a whole.
Insurance ownership in the United States runs at 7 percent of GDP and is at 10 percent in Britain and Japan. China's relatively low rate and strong economic outlook is the biggest draw for overseas insurers.
That has led to a hiring binge: leading foreign insurers are looking to bring on up to 40 percent more front-line sales agents in China this year — twice the rate of recent years, executives and consultants said.
AIA, for example, had close to 35,000 agents at the end of last year compared with 15,000 in 2014.(SD-Agencies)A bird flies over AIA Tower, named after American International Assurance Co. (AIA), in Hong Kong in this file photo. Overseas insurers are quickly gaining market share in China, aided by a regulatory crackdown on short-term investments packaged as insurance.SD-Agencies