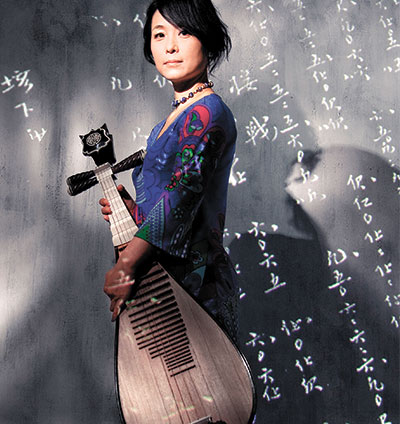 Guan Wanwei
anyart@163.com
RENOWNED Chinese pipa virtuoso Wu Man, along with more than 10 other musicians from Central Asia and northern Shaanxi Province, will take classical music from the ancient Silk Road to the stage at Shenzhen Concert Hall on the evening of March 30.
The concert includes a variety of musical forms such as muqam, Huayin Laoqiang opera, and folk songs from Xinjiang and parts of Central Asia. The music's origin can be traced back to the Han Dynasty (206 B.C.-A.D. 220). The concert, rich in emotion and nuances, will lead audiences to a greater appreciation for the complexity and variety of music along the road from Xi'an to Central Asia.
The first half of the concert is presented by Wu Man, Senuber Tursun and a number of musicians from home and abroad. Works include Tajik folk music, Kazakh folk music, Xinjiang songs and muqam, as well as the famous pipa solo "Ambush from 10 Sides."
Tajikistan's music is typically known by an intense rhythem derived from Arabic influences, but the cousin Tajik folk music found in China is closer to Xinjiang music and is more melodious and calm.
Kazakhstani musician Sirojiddin Juraev will play a song adapted from a Kazakhstan folk song that is typical to local music in western China with Wu. Juraev will also perform dutar and setar solos.
The famous Uygur singer Senuber Tursun will sing two Ili folk songs with a dutar. Tursun is often seen with Wu when performing in foreign countries. He has been living abroad for many years and enjoys extensive popularity on the world stage. He was also born into a musical family; his father was once a musician at the Ili and Xinjiang military art troupes.
Muqam, a distinct melody heard in Xinjiang music, gained much recognition from the public 10 years ago due to its popularity on mass media such as TV. It shows a different, complex and profound aspect of Xinjiang arts in addition to lively dancing and is known for conveying strong emotions.
Muqam means "rules and convergence" in Arabic, which hints at its nature as an ensemble of a variety of musical instruments. It can be regarded as the equivalent of an orchestra in western music. However, the forming of a muqam band is more flexible and random.
The second half of the concert belongs to Shaanxi folk music genres such as Huayin Laoqiang shadow puppetry and Guanzhong traditional music. A Huayin Laoqiang shadow puppet band consists of 11 musicians including vocals, a chorus, huqin and percussion players will take the stage at this concert.
In recent years, the Huayin Laoqiang opera has been gaining traction, becoming a noteworthy extension of trending domestic auditory aesthetics. For instance, female singer Tan Weiwei's fashionable interpretation has been regarded as sensational. The original Huayin Laoqiang opera originates in Huayin, China's northwestern Shaanxi Province. It fuses boatmen's work songs with other local music elements. The melodies of Laoqiang opera are sonorous, sad and unrestrained, featuring vigorous and savage cries. A distinct feature of the opera is that a single man often leads the melody while a chorus chimes in. The opera is passed down through families, making it a living fossil of ancient Chinese folk art.
The uniqueness of Laoqiang opera in the context of contemporary music is irreplaceable. Its enduring solidification and inheritance makes it even richer in form and content. If the concert of Iranian traditional music is a reflection of the precipitation of ancient civilization, the music of the Silk Road that has a wide geographic span embodies the diversity of regional culture.
(Story translated by Zhang Yu)
The Ancient Echo
Time: 8 p.m., March 30
Tickets: 100, 180, 280, 380, 580 yuan
Venue: Shenzhen Concert Hall, intersection of Hongli Road and Yitian Road, Futian District (福田区红荔路和益田路交汇处深圳音乐厅)
Metro: Line 3 or 4 to Children's Palace Station (少年宫站), Exit D
Artists:
Pipa: Wu Man
String: Sirojiddin Juraev
Uygur vocal: Senuber Tursun
Tambourine: Andrea Piccioni
Orchestra: Huayin Shadow Puppet, including vocal, chorus, huqin, and percussion