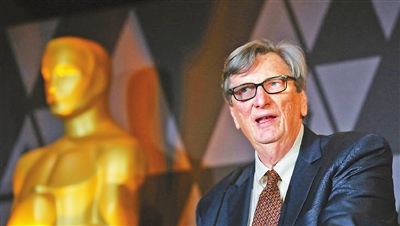 A COMPLAINT of sexual harassment that had been brought against John Bailey, president of the Academy of Motion Picture Arts and Sciences, has been dismissed, and he will continue to serve as the organization's president.
In a statement Tuesday night, the organization said, "The committee unanimously determined that no further action was merited on this matter. The findings and recommendations of the committee were reported to the board which endorsed its recommendation. John Bailey remains president of the Academy."
The statement referred to an investigation undertaken by the Academy's membership committee following a complaint of sexual harassment that had been lodged against the Academy president.
While the Academy said "it took the complaint very seriously," the committee "unanimously agreed that no further action was merited on this matter" and passed its findings and recommendations on to the full board of governors, which endorsed its conclusions.
Bailey, 75, was elected to his first one-year term as president Aug. 8 by the Academy's 54-member board of governors. Previously he had represented the cinematographers branch of the organization for more than a decade. As a cinematographer, his credits include "Ordinary People" (1980) and "The Big Chill" (1983), among many other titles. His wife, Oscar-nominated film editor Carol Littleton, is also on the Academy's board of governors, representing the editors branch.
Earlier this month, it was reported that three sexual harassment complaints had been filed against Bailey. The Academy said Tuesday that those reports of three claims were incorrect, saying, "There was only one claim under consideration which was received Tuesday, March 13, 2018."
That one claim quickly became one of the first tests of the Academy's new code of conduct and procedures for its enforcement. The Academy adopted the code of conduct for its members in December, following its expulsion of disgraced mogul Harvey Weinstein in October, and it then adopted new procedures to handle allegations of workplace misconduct in January.
While the Academy did not disclose the nature of the allegation against Bailey when those first press reports appeared, it said at the time that, per the new procedures, the matter would be treated confidentially and had been referred to its membership committee, headed by casting director David Rubin, which began a review March 14. That committee, in turn, was expected to submit a report to the full board of governors at the board's regularly scheduled meeting that was held Tuesday.
(SD-Agencies)