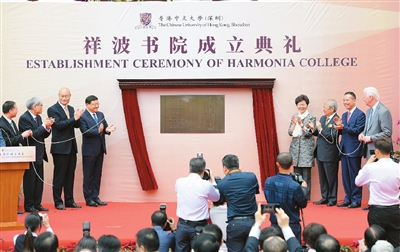 Zhang Qian
zhqcindy@163.com
WITH donations of at least 100 million yuan (US$15.91 million) from Yang Xiangbo, chairman of Shirble Group, which owns retail department stores and real estate companies, the Chinese University of Hong Kong, Shenzhen (CUHK(SZ)) established a fourth college Thursday morning.
The new college is named Harmonia College. In Chinese, the college is named after its donor.
Yang will be sponsoring the college's development. The college's first scholarship was also established Thursday with donations from Yang.
The scholarship, named after James Mirrlees, the winner of the Nobel Prize in Economics in 1996 and also head of a college at the Chinese University of Hong Kong, will provide funds to allow students studying at CUHK(SZ) and universities in Hong Kong to join exchange programs.
Following the CUHK's traditions, the university in Shenzhen will also adopt a collegiate system and currently has three colleges, namely Shaw College, Diligentia College and Muse College, in addition to the new college.
Each college provides dormitories, canteens, music rooms and exercise centers. It also invites domestic and international speakers to give lectures and facilitate forums.
Chief Executive of the Hong Kong Special Administrative Region Lam Cheng Yuet-ngor and Shenzhen Party chief Wang Weizhong attended the inauguration ceremony and gave speeches.
The two leaders envisioned a better future for Shenzhen and Hong Kong's higher education development.
Lam said in her address that Hong Kong and Shenzhen had built up a solid foundation for collaboration and enjoy a much closer relationship after years of efforts.
The chief executive hoped that Hong Kong and Shenzhen will further develop ties with each other under the national strategy of the Guangdong-Hong Kong-Macao Greater Bay Area, especially in medicine and education.
"The successful establishment of the Chinese University of Hong Kong, Shenzhen shows that there are many possible ways to achieve close cooperation between Hong Kong and Shenzhen, and I believe more projects will be developed," said Lam.
It was Lam's second visit to CUHK(SZ). Her first trip to the university dates back to October in 2012 when she was the chief secretary of Hong Kong.
Wang agreed with Lam on the two cities needing to develop deeper ties in the education sector.
In his speech, the Party chief of Shenzhen said that the city welcomes high-end global education managers, professors and researchers to join the development of universities in Shenzhen.
There are currently 13 universities with approximately 96,700 full-time undergraduate and master's degree students, said the Party chief.
After the ceremony, the two government leaders toured the campus and talked with students.