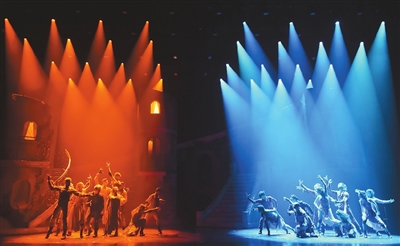 Cao Zhen

caozhen0806@126.com
IT'S truly a timeless star-crossed romantic tragedy, and French composer Gerard Presgurvic knew he couldn't compete with Shakespeare's poetry, so he found a way to make it sing to the tune of younger audience members.
French musical "Roméo et Juliette" debuted in Shenzhen over the weekend, bringing four shows to Nanshan Cultural and Sports Center's grand theater. With music and lyrics by Presgurvic, the musical premiered in Paris in 2001 and has been touring around the world ever since.
The plot remains largely as written by Shakespeare. To express the hatred between the two families, the costumes and lighting are designed mainly in two powerful colors: The Montague's are seen in shades of blue and the Capulet's in red. Hairstyles and makeup of some supporting roles, such as Romeo's friend Mercutio, Juliet's cousin Tybalt and Romeo's cousin Benvolio, are all done up a modern street-punk style.
"The dances of the Capulet's are elegant and classical, while the dances of the Montague's are modern and aggressive hip-hop," said the musical's choreographer Carl Portal at a press conference in Shenzhen last week.
"In this French musical, Shakespeare's story is told in an entertaining way to make modern audience members understand the classic. Compared with U.S. Broadway musicals, which have heavy influences of jazz and blues, French musicals are bold, expressive and forceful, with rock, punk or electronic music styles. Other renowned French musicals, such as 'Mozart, L'opéra Rock' and 'Notre-Dame de Paris,' also use pop or rock compositions," said Lucy Lee, president of AC Orange International LLC.
Damien Sargue, who has been playing Roméo since the first production, said that when he first played the role in 2001, he was only 20 and naive, but after 17 years in the role, he now understands more about life and love and can bring a deeper understanding to the performances. Clémence Illiaquer, playing Juliette, joined the cast at the age of 19 in 2016.
She emulated the role perfectly with her lovely disposition and soft voice.
"Roméo et Juliette" debuted in Shanghai in 2012 for 21 shows and in 2016, the musical was staged in Guangzhou and Beijing for 30 shows.
After the Shenzhen performances, it will tour to Shanghai, Hangzhou and Tianjin for a total of 31 shows in China this year.