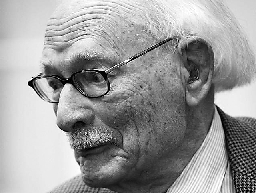 A DUTCH teacher who saved hundreds of Jewish children from the Nazis has died aged 107.
Father-of-two Johan van Hulst went down in history over his "instrumental" role in helping up to 1,000 children from being deported to concentration camps where they faced torture and death.
The former senator died in Amsterdam, the city where he was born, March 22, the Dutch Senate announced last week.
He was working at the Reformed Teacher Training College in the predominantly Jewish area of Plantage in 1942, two years after Germany invaded the Netherlands in the WWII.
Van Hulst, the son of a furniture upholsterer, helped keep the institution afloat after the government withdrew funding that summer, eventually becoming its principal, the BBC reported.
He soon joined forces with a German-Jewish man named Walter Suskund, entrusted by the Nazis to run a deportation center out of the Hollandsche Schouwburg theater, adjacent to the school.
Suskund helped several people escape by lying about the number of prisoners to arrive, before they were shipped off to cruel camps including Auschwitz.
Van Hulst, eventually awarded the Righteous Among the Nations by Israel, joined the rescue effort when the Nazis took over a nursery near both the theater and the school. The creche's manager Henriette Pimentel convinced van Hulst, whose school was separated from the nursery by a hedge, to help the children escape.
Nurses would pass them over the divide to van Hulst, who would hand them over to resistance fighters able to hide them.
They would also use passing trams to sneak out prisoners and children by blocking them from Nazi guards' view.
The Nazis did not suspect anything because not all of the children were registered, but this left van Hulst and his friends with a very difficult decision.
"Try to imagine 80, 90, perhaps 70 or 100 children standing there, and you have to decide which children to take with you.... That was the most difficult day of my life," he told the World Holocaust Remembrance Center.
Van Hulst spent 25 years as a Dutch senator and served as a Member of European Parliament from 1961 to 1968, but not being able to save more people during the war continued to haunt him.(SD-Agencies)