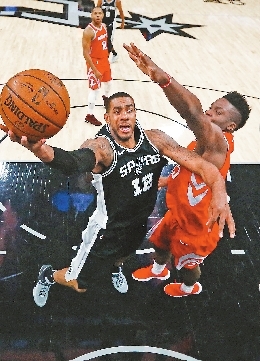 THE Spurs took advantage of a Houston Rockets team that admitted to a lapse of focus after recently clinching the best record in the Western Conference, and pulled out a crucial win in its own playoff push.
LaMarcus Aldridge had 23 points and 14 rebounds and Rudy Gay added 21 points as San Antonio held Houston to its lowest-scoring game of the season, beating the Rockets 100-83 to snap their 11-game winning streak.
"We've been through some ups and downs this season, but we're picking up at the right time," Gay said. "There is no better time than this. This is when teams make or break themselves."
The Spurs, winners of eight of their last 10, remained fourth in the Western Conference after preventing a season sweep by the Rockets, who have the NBA's best record with a franchise-best wins total.
There appeared to be a bit of a hangover after the Rockets clinched the West's top seed following Golden State's loss to Milwaukee on Thursday.
"The Spurs played 10 times harder than we did," Houston coach Mike D'Antoni said. "Looked like a team trying to stay in the playoffs at a good spot and Rockets like a team that's already got it sewn up and we played that way."
(SD-Agencies)