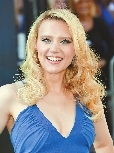 New movie
"SATURDAY Night Live" star Kate McKinnon is in negotiations to join Lily James in Danny Boyle's untitled comedy for Universal and Working Title.
Richard Curtis wrote the script, which is keeping its logline close to the vest. It is known to be musically themed and set in the 1960s or '70s. McKinnon will play a talent agent. James is playing a teacher.
Universal is eyeing a summer shoot for the project.
McKinnon next stars in "The Spy Who Dumped Me," Lionsgate's summer comedy that also stars Mila Kunis.
Prank
"HAMILTON" creator Lin-Manuel Miranda tried to pull one over on Broadway fans Sunday by announcing plans to create a musical based on Tommy Wiseau's cult-classic film "The Room."
"This is all VERY premature. We'll try it out of town in San Francisco," Miranda tweeted on April Fool's Day, linking to an exclusive story about the project on theatermania.com.
Miranda later revealed that the musical was just an April Fool's prank by responding to an angry tweet that read, "...go back to being off the grid and stop with the disappointment."
'Folklore'
JAPANESE actor Kazuki Kitamura is set to star in HBO Asia's forthcoming original horror anthology "Folklore."
A six-part hourlong series set in various locations across Asia, "Folklore" has already begun shooting and is targeting a premiere later this year on HBO Asia's TV and digital platforms.
Joining Kitamura in the cast is Malaysian actor Bront Palarae, co-star of the earlier HBO Asia original "Halfworlds."
"Folklore" was created by leading Singaporean filmmaker Eric Khoo. Each episode of the anthology will explore a different ghost story or horror tradition from a different Asian country.
Endorsement
AT first it seemed Cynthia Nixon might not get Sarah Jessica Parker's vote for governor of New York, but that changed Thursday.
Parker posted her endorsement of her former "Sex and the City" co-star on her official Instagram account Thursday morning.
"A mother. An activist. An advocate. A fighter. A NY'er. A dear friend," Parker wrote in a caption on a photo of Nixon. "Running for Governor of our great state. My sister on and off screen, you have my love, support and vote."
(SD-Agencies)