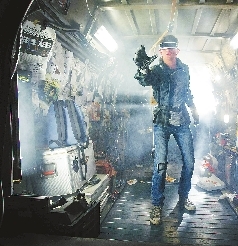 STEVEN SPIELBERG has found his way back to the top of the box office with the action-adventure "Ready Player One," while Tyler Perry has scored again with "Acrimony."
Studio estimates Sunday indicated that Spielberg's virtual reality-focused film earned a solid US$53.2 million in its first four days in theaters from 4,234 locations, with US$41.2 million of that coming from the three-day weekend.
Not adjusted for inflation, it's Spielberg's best opening in a decade following "Indiana Jones and the Kingdom of the Crystal Skull," which launched with US$100.1 million in 2008. Aside from "The BFG," Spielberg has lately favored smaller historical dramas instead of the big-scale blockbusters of his heyday.
Based on Ernest Cline's popular novel and chock-full of references to 1980s pop culture, including some nods to Spielberg's own films, "Ready Player One" is a return to the popcorn filmmaking that he became known for. That includes a reportedly hefty US$175 million price tag, which doesn't account for marketing costs.
Internationally, the film exceeded the studio's expectations, with US$128 million from 62 territories, including US$61.7 million from China (the biggest-ever opening in the country for Warner Bros.). Worldwide, it grossed US$181.3 million.
Paul Dergarabedian, a senior media analyst for ComScore, said "Ready Player One" should be judged in the context of the marketplace, which is down significantly (24.1 percent) from last March and has seen nearly every film since "Black Panther" opened in the "middling to good range."
"None of them have set the world on fire," Dergarabedian said. "We're living in a world where a US$52.3 million gross for the first four days is a really good number."
"Tyler Perry's Acrimony" took second place. Driven by an overwhelmingly female audience, the film, starring Taraji P. Henson, grossed US$17.1 million over the three-day weekend, followed by "Black Panther" in third place, with US$11.3 million. (SD-Agencies)