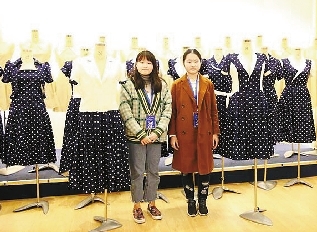 深圳少女靠时装设计闯入第45届世界技能大赛
The fashion-tech category of the 45th WorldSkills Competition Shenzhen Regionals came to a close recently. After two days of competition, Zhu Huayu from the Training School of the Clothing Industry of Shenzhen and Zhou Yurong from Shenzhen Polytechnic stood out and won first and second places at the contest. They will represent Shenzhen at the Guangdong Regionals.
This was the first time Shenzhen had hosted the fashion-tech category of the WorldSkills Competition. The event was organized by Shenzhen Municipal Human Resources and Social Security Bureau and Shenzhen Education Bureau and undertaken by the Training School of the Clothing Industry of Shenzhen and the Shenzhen Staff Education and Vocational Training Association, with the guidance of Shenzhen Vocational Skill Appraisal and Guidance Office.
During the contest, participants are required to do 3-D modeling and design, clothing collection design, pattern design and ready-to-wear production.
According to Zhou Shikang, president of the Training School of the Clothing Industry of Shenzhen, Shenzhen's clothing industry has been leading the country and continues to flourish after nearly three decades of development. However, the cultivation and growth of competent talent in the field cannot meet the demand of the fast-growing industry, creating a bottleneck in the industry's upgrading and transformation.
Zhou added that the event reflected Shenzhen's ambition to cultivate more young craftsmen so that they can better serve the industrial economy and contribute to making local clothing brands internationally renowned.
WorldSkills dates back to 1950 when it was first held in Madrid, Spain. The biennial event seeks to increase the awareness and prestige of vocational and blue-collar professions. China first participated in the event in 2011. The 45th WorldSkills Competition will be held in Kazan, Russia in 2019 and the 46th in Shanghai in 2021.
(Yang Mei)