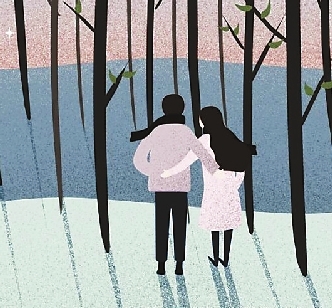 Catherine Ma, Grade 10, Shenzhen International Exchange Institute
Instructed by Sunday Liu
深圳国际交流学院十年级 Catherine Ma
指导老师:Sunday Liu
In the dim light, it could be seen faintly that the room was narrow and scruffy, with a rotten smell of pickle all over and more than a half the paint on the walls scratched off.
The only light in the bedroom was the glimmer from that old, shabby desk lamp. The rustling sound of writing can be heard, suggesting there might be someone writing under the lamp.
"Have a rest," a woman came in and said with a sigh, who was about 40 and her sanguine complexion indicated her steady and happy family life, but the concern in her eyes was obvious.
"Tomorrow is November 9, 1989," she kept saying, unaffected by the silence. "The wall will be dismantled."
"Are you sure, Aliya?" The woman who was under the lamp stood up immediately, then rushed to the door and took the other woman's hands so agitatedly that both hands were shaking.
"Dear Bella, how could I lie to you? You can finally get together with him," Aliya sighed.
Bella smiled, eyes shining, the biggest smile she had since 1961. Though Bella was around 40, she was still gorgeous as if time didn't leave traces on her face. She had a good figure with wine red long hair and charming blue eyes. It was obvious that she cared much about her appearance.
Tomorrow.
He stood in front of a mirror, wearing new suits, with wrinkles around his eyes. It could be seen easily that he was a handsome man when he was young.
They had been the happiest couple, but unfortunately the construction of Berlin Wall had separated them for 28 years.
Many people assembled around the wall, while some American soldiers came to maintain order. He was there already, with hands full of sweat from anxiety.
Bella came as well. A half hour later, the wall was dismantled. People were laughing, crying, yelling. Waves of deafening sound were pounding their ears. Suddenly, he saw her, as glamorous and fair as before. She saw him as well, robust and charming.
They stared at each other for a while. He said nothing; she gazed into his eyes in silence. The silence continued for a few minutes but was felt by them like forever. Finally, she burst into sobs.
"Kevin?"
She asked in a trembling voice, tears coursing down her cheeks.
Her voice was clearly distinguishable but Kevin, with his complex expression, seemed unable to recognize her.
Then his eyes were brimming. And his smile was broad. The only way in which he could comfort her and himself was replying "yes" several times. Immediately, she rushed to him and flung herself into his arms. He hugged her in return so tightly as if to bring her into his blood.
Then they kissed.
On November 9, 1989, 28 years after the wall was constructed, the couple met again.