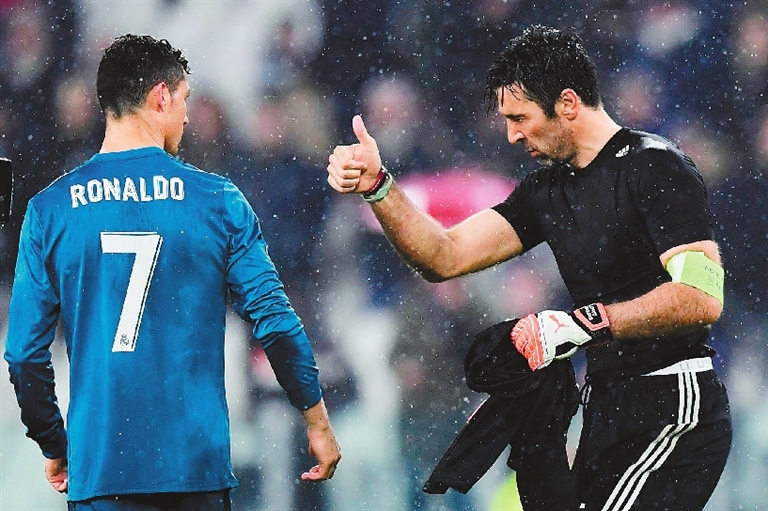 CRISTIANO RONALDO'S latest masterpiece was so good even the opposing fans had to stand up and applaud.
Ronaldo pulled off a spectacular overhead kick to score his second goal of the night Tuesday as his Real Madrid beat Juventus 3-0 in the first leg of their Champions League quarterfinal. Even by Ronaldo's record-breaking standards, this one was special.
Juventus goalkeeper Gianluigi Buffon had just pulled off a fantastic save to deny Lucas Vazquez but the move continued and Ronaldo leaped acrobatically into the air to meet a cross with his back to goal and smashed the ball into the bottom right corner.
Even the Juventus fans rose to give him an ovation, having jeered his every touch previously. And Madrid coach Zinedine Zidane, himself considered one of the best players in history, clutched his head in amazement.
"Cristiano is simply a different player than all the others," Zidane said. "He shows that every time. He always has a great desire to do great things in the Champions League, he never gets tired of doing what he does. ... I'm the coach but also a fan. That's why I put my hands on my head."
Ronaldo had also scored the opening goal just three minutes into the game, and he later set up the third for Marcelo as Madrid took a commanding lead back home for the second leg.
In the process, the Portuguese star became the first player in Champions League history to score in 10 successive matches.
"There are two teams better than anyone and they are those that have Lionel Messi and Ronaldo," Juventus coach Massimiliano Allegri said. "They have won 10 Ballons d'Or in 10 years, they have been the Champions League's top goalscorers for 10 years.
"For that reason Real Madrid and Barcelona have the advantage."
Juventus now has a near-impossible task to turn the quarterfinal around against the two-time defending champions in the return leg April 11, after falling to their first home defeat in the Champions League since April 2013.
Juventus was out for revenge after losing the final 4-1 to Madrid last year. But Ronaldo once again came out on top.
The Portuguese forward has scored in every Champions League match this season and it took him less than three minutes to continue that tradition, thanks in part to a series of uncharacteristic defensive mistakes from Juventus. Isco was left in acres of space on the left flank and he crossed in for an unmarked Ronaldo to poke the ball into the right side of the net.
Juventus responded well and could have leveled immediately but Sergio Ramos put in a perfectly-timed tackle just as Paulo Dybala was about to unleash a shot.
Meanwhile, Sevilla also lost at home in the night's other quarterfinal, as Bayern Munich came from behind to win 2-1.
(SD-Agencies)