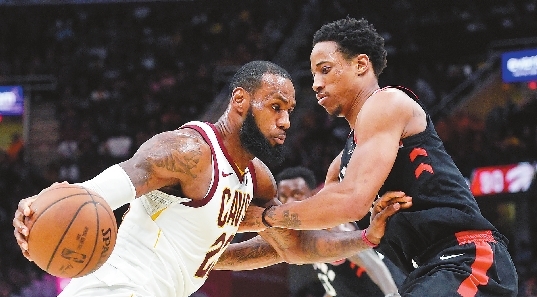 LEBRON JAMES passed another NBA milestone Tuesday as the Cleveland Cavaliers kept ahead of Philadelphia in the Eastern Conference playoff race with a win over first place Toronto.
James's 27-point performance in a 112-106 victory at the Quicken Loans Arena helped the Cavs improve to 48-30, leaving them one win ahead of the 76ers in the battle for third seeding in the playoffs.
It was the 942nd time James scored 20 points or more, seeing him vault over Kobe Bryant into third place in the all-time list. Only Karl Malone (1,134) and Kareem Abdul Jabbar (1,122) have had more 20-point games.
Meanwhile, the Raptors' fourth defeat in six games will fuel the anxiety felt by the Canadian franchise as they attempt to lock up number one seeding in the Eastern Conference.
The Raptors fell to 55-22 for the season following the loss but breathed a collective sigh of relief after second-placed Boston blew a chance to close within one win of top spot.
The Celtics slumped to a 106-102 loss against the Milwaukee Bucks, with Giannis Antetokounmpo scoring 29 points and grabbing 11 rebounds.
In Cleveland, however, the 2016 NBA champion Cavs signalled they will be a threat for any team in the postseason as they attempt to reach the NBA Finals for the fourth year in a row.
As well as his 27 points, James contributed 10 rebounds and six assists on a night when the Cavs starters shared the scoring evenly.
All five starters made double figures, with Jose Calderon grabbing 19 points and Kevin Love weighing in with 18 points and 15 rebounds.
The Cavs' defense also successfully shut down the Raptors' offense, with Kyle Lowry restricted to just five points from his 28 minutes on court.
"We know Toronto have been scoring at a high clip all year — our last match-up here they put 70 on us in the first half," James said.
(SD-Agencies)