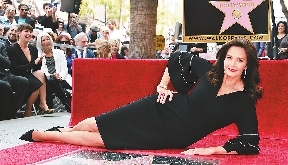 WITH her arms crossed and poised for action, "Wonder Woman" television actress Lynda Carter was honored with a star on the Hollywood Walk of Fame on Tuesday as her most famous superhero character enjoys a big-screen revival.
Carter's "Wonder Woman" character, which first appeared on the pages of DC Comics in 1941 and debuted as a TV series starring the actress in 1976, is seen as a forerunner to the empowered heroines that are taking center stage in Hollywood.
"Wonder Woman" was only on U.S. television for three seasons, first on ABC and later on CBS where it finished in 1979. But the series, along with Carter's performance, have given "Wonder Woman" a long legacy as a feminist symbol.
At times choking with emotion, Carter, 66, thanked her friends and family for their support as well as a nod to the men who helped stand behind women's stories.
(SD-Agencies)