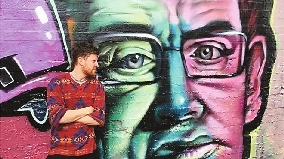 GRAFFITI artists have paid tribute to Dr. Stephen Hawking on a bridge in the city he "inspired."
The renowned theoretical physicist died after a long battle with motor neurone disease March 14, aged 76.
The work, reported in the Cambridge News, depicts Hawking together with the words "be curious." It shows the professor's face and also a silhouette of him in his wheelchair.
Local artists Kyle Warwick and Tim Shuker-Yates spent four to five hours on their tribute to the former fellow of Gonville and Caius College, Cambridge.
Warwick said Hawking visited his primary school in Newnham, Cambridge, when he was about 10 years old to give a motivational talk during an assembly.
The 25-year-old freelance artist said, "I did it because I'm Cambridge born and bred and very proud of coming from here. For the people of Cambridge, he was an inspiration."
(SD-Agencies)