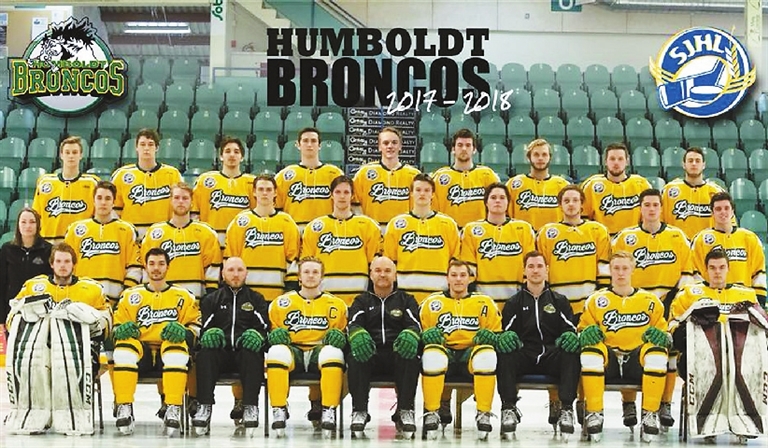 FIFTEEN people were killed when a bus carrying a Canadian junior hockey team collided with a truck in Saskatchewan province, police said Saturday, in one of the worst disasters to strike Canada's sporting community.
The tragedy sent shock waves through the hockey-loving country and engulfed the home of the Humboldt Broncos ice hockey team, a small farming town of fewer than 6,000 people, in grief. Fourteen survivors were in hospital, with some in critical condition, the Royal Canadian Mounted Police (RCMP) said.
The team had been traveling to a playoff game when the accident occurred at 5 p.m. Friday near the Tisdale area, around 185 miles (300 km) north of Regina.
"Our Broncos family is in shock as we try to come to grips with our incredible loss," Kevin Garinger, the team's president, said in a statement.
The players had been on their way to compete in Game 5 of a playoff series against the Nipawin Hawks when the bus they were traveling in collided with a semi-trailer.
The Hawks' president, Darren Opp, told the Globe and Mail newspaper that the truck T-boned the players' bus. "It's a horrible accident, my God," he said. "It's very, very bad."
The driver of the tractor trailer was not injured in the crash, RCMP Saskatchewan assistant commissioner Curtis Zablocki told a media conference. He said the driver was initially detained, but later released.
RCMP is continuing its investigation and it was too early to comment on the cause of the collision, Zablocki added.
Citing relatives, the Canadian Press reported that the Broncos' head coach Darcy Haugan and the team's 20-year-old captain, Logan Schatz, were among those killed.
Many social media users posted Haugan's photograph alongside messages of shock and sympathy, and the hashtags #prayersforhumboldt and #humboldtstrong.
"God bless Darcy Haugan for being an incredible mentor and coach to young hockey players and prayers for his family to help cope with their immense loss," the Western Provinces Hockey Association wrote on Twitter.
National Hockey League Commissioner Gary Bettman said the NHL mourned the passing of those who died "and offers strength and comfort to those injured while traveling to play and be part of a game they loved."
(SD-Agencies)