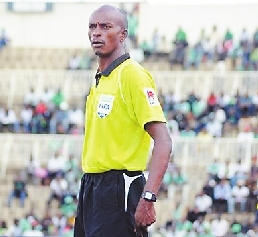 REFEREE Aden Marwa will make history by becoming the first man from Kenya to officiate in a World Cup in Russia in June.
Marwa believes he will take the challenge in stride, a feat that will help him score more gigs at the top levels of the sport.
Speaking to Xinhua on Friday, Marwa, who will be among the over 60 assistant referees in Russia, waded in the controversy around the use of Video Assistant Referee for the first time in a FIFA World Cup, saying he is happy they will get a third eye to help the referee and the linesman.
Marwa made his first major appearance as a referee at the 2017 Africa Cup of Nations in Gabon. FIFA has since appointed 16 match officials from Africa out of the 99 officials — 36 referees and 63 assistant referees — picked from 46 different countries. Africa has six referees and 10 assistants. (Xinhua)