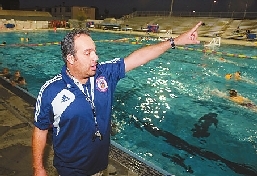 A RENOWNED water polo coach in California has been charged with sexual abuse of seven girls in his sport club, the Orange County District Attorney's office said Wednesday.
Bahram Hojreh, 42, was suspected of sexually assaulting seven water polo players, four of whom were 15 years old or younger, between September 2014 and January, according to a statement from the office.
Hojreh touts himself as a coach who has "helped develop multiple Olympians." He currently serves on the board of directors for the local Southern California chapter of USA Water Polo, the governing body for water polo in the country.
(SD-Agencies)