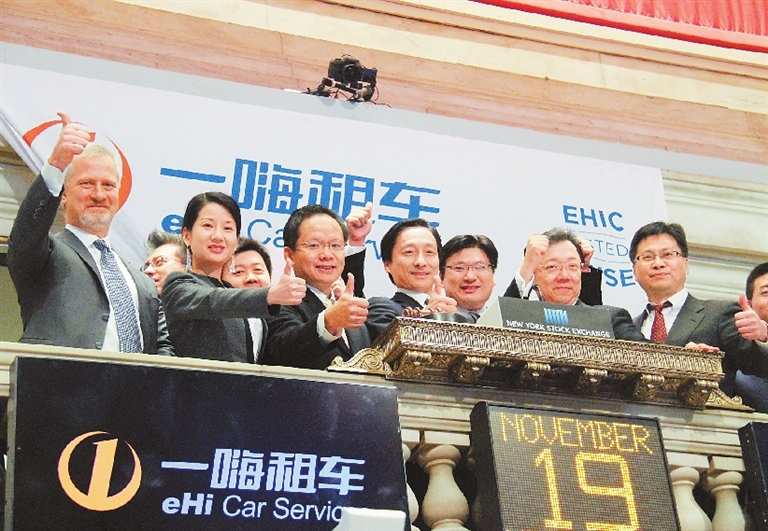 CAR rental company Ehi Car Services Ltd. said Friday the company would be taken private by a consortium led by its chief executive officer Ray Ruiping Zhang in a deal valued at about US$937.5 million.
The offer of US$13.50 in cash per American depositary share of Ehi Car Services, which is listed on the New York Stock Exchange, represents a 15.4 percent premium to the company's close Nov. 24, when a third party China-based investment fund, Goliath Advisors Ltd., bid for Ehi Car Services.
Ehi Car Services formed a special committee in December to review Goliath's offer. But in early January, the company said it has received a non-binding proposal from a consortium that included affiliates of MBK Partners HK Ltd., the company's CEO and his affiliates.
The consortium's offer superseded that of Goliath's, the China-based investment fund informed Ehi Car Services.
The current consortium, which is set to buy Ehi Car Services, consists of new investors, including certain affiliates of MBK Partners Fund IV LP, Baring Private Equity Asia Ltd. and Redstone Capital Management (Cayman) Ltd.
It also included some existing shareholders of Ehi Car Services, including an affiliate of CEO Zhang.
The consortium will fund the deal through a combination of proceeds from a loan facility from Morgan Stanley Senior Funding Inc. and Deutsche Bank AG Singapore and cash from some of the members of the consortium.
Based in Shanghai, Ehi Car Services has rapidly grown its business in self-driving car rentals and chauffeured car services to 200 cities in China since its founding in 2006. In April last year, it also launched a ride-sharing service in 10 cities in China, with 60,000 customers signing up by the end of the second quarter. (SD-Agencies)